Main content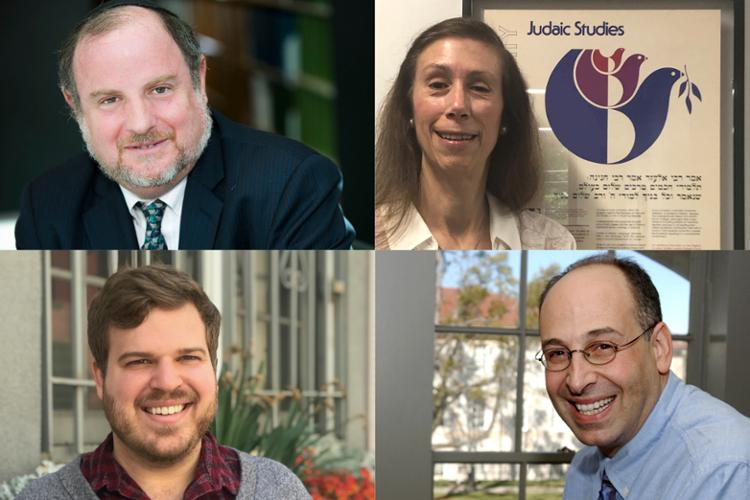 Despite the challenges of COVID-19, TIJS faculty continue their academic work. Though the obstacles they are facing may be new, our scholars are responding in inventive ways.
Thanks to tools such as Zoom, faculty like Professor Geoffrey Levin have given virtual lectures. Dr. Levin, who received his PhD in History and Judaic studies from New York University in May 2019, will be a new addition to Emory's core faculty this fall. In May, Professor Levin remotely delivered the Annual Luckens International Prize in Jewish Thought and Culture Lecture for the University of Kentucky. Levin also presented a paper for the Starr Fellows' Seminar at Harvard University entitled "Emotions and a Genre of Jewish Politics: American Jewish Advocacy for Israeli-Palestinian Peace, 1967-1977."
And proving that the work of academia is vital to understanding and navigating our world today, Professor Jeffrey Lesser took part in a
virtual discussion panel
 on the topic of "Livelihood Challenges of Migrants during COVID-19 and Future Challenges," hosted by the Global Research Forum on Diaspora and Transnationalism. Lesser's current research is on health and immigration in Sao Paulo, focusing on a neighborhood that includes a significant Jewish population along with new immigrants from Korea, Bolivia, and Paraguay, among other places. Lesser brought the above knowledge, plus experience being embedded within a medical team for the past six years, to the metaphorical discussion table. 
As previously in-person events are shifting online, so are processes. Professor Hazel Gold was recently appointed by Kenny Blank, Executive Director of the Atlanta Jewish Film Festival, to serve as Co-Chair of the 2021 AJFF Film Evaluation Committee. The Committee is made up of a large corps of volunteers who screen films submitted by directors who are eager to show their work at the festival, currently one of the largest Jewish film festivals in the U.S. Professor Gold guides the discussions and lends her academic expertise as a cultural studies scholar, especially in the area of Jewish-themed films from Spain, Latin America, and Sephardic communities worldwide. While she has served as Co-Chair before, this will be the first time that AJFF will conduct the film evaluation process entirely online.
The pandemic has limited faculty ability to conduct archival research, forcing many to rely on digitized sources or previously acquired documents. Though summer research trips may have been cancelled, the writing continues. Professor Michael J. Broyde, a scholar of Jewish law, is working on a book tentatively entitled Splitting Hairs: Modesty and Hair Covering in the Jewish Tradition about sexuality and modesty in Jewish law and tradition. He is also writing an article on privatizing religious sites in Israel.
Dr. Levin will continue work on his manuscript on the emergence of Palestinian rights as a contentious issue in the relationship between American Jews and Israel (1948-1978) this summer as well.
Dr. Lesser's current book project, Making Space for Migrant Health: Life and Death in the "Worst" neighborhood of São Paulo, Brazil, focuses on the relationship between "Public Health" (as a project of institutions) and "The Public's Health" (as understood by the population) by examining the history of one working-class/poor block in the Bom Retiro neighborhood over a period of about 130 years. The neighborhood is a multicultural one with Catholic immigrants from Southern Europe predominating in the nineteenth century, Jewish immigrants from Eastern Europe settling prior to World War II, and more recently immigrants of various faiths from Korea, China, Bolivia, and Paraguay. Lesser, along with students and colleagues from Emory, the Federal University of São Paulo, and the University of São Paulo have been working with a Brazilian health system medical team in addition to conducting archival research as they explore long-term continuities in the relationship between health professionals and the public.
In addition to their larger research projects, several faculty are making contributions to anthologies. Levin recently submitted a chapter for an edited volume that explores Israeli journalist Uri Avnery's views on American Zionism in the 1950s.  This summer Dr. Lesser is finishing a chapter for a book entitled Jews and New Cities, which emerged out of a symposium held last year at the University of Cape Town. The chapter is titled, "Jews, non-Jews, and the Making of São Paulo, Brazil."
The pandemic has also inspired faculty to adjust their current projects to new conditions. Joseph Skibell, professor of creative writing, has renamed his weekly blog to 
"Into the Unknown (Pandemic Edition),"
where he discusses his life, his writing, and his teaching.
While trips to libraries, archives, museum, and historical sites may have to wait, the work continues.