Main content
Deep Dive: Pazit Kahlon-Shelnutt and the Hebrew Language Program
---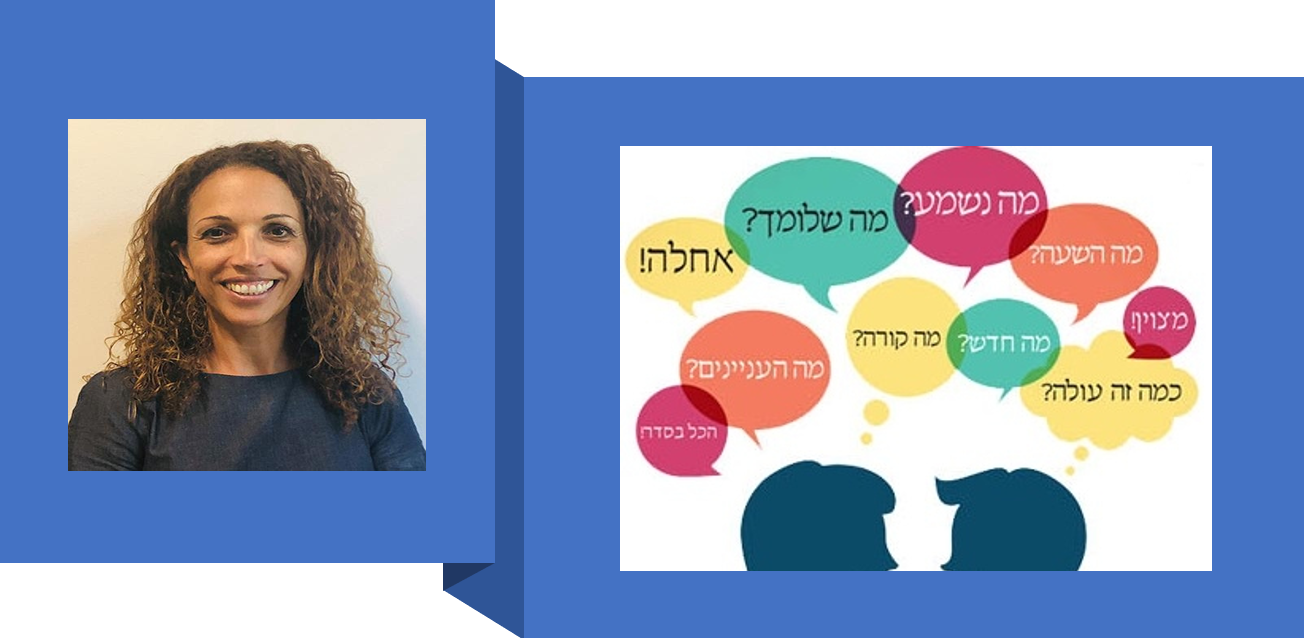 While Jewish Studies at Emory covers several disciplines, a knowledge of Judaic languages is fundamental to all the work students and professors do in areas such as Jewish history, Jewish literature, Israel Studies, and the study of classical texts. As a result, the Hebrew Program at Emory, which dates back to 1975, and which is administered by the Department of Middle Eastern and South Asian Studies (MESAS), holds a particularly important place in the Jewish Studies constellation at Emory.  Hebrew Lecturer Pazit Kahlon-Shelnutt serves as the Director of the Hebrew Program, and possesses a noteworthy passion for cultivating her students' experience both inside and outside the classroom.
As Junior Eli Mars 23B notes, "Immediately from the beginning of Hebrew 101, Pazit made me feel at home and excited about learning a language I had only minimal experience with. Pazit knows how to engage with students and control a classroom. The group work we did in that class was some of the most fun and productive sessions of group work I had ever experienced, and for that reason, some of my best friends at Emory came from that Hebrew class."
Her ability to engage comes from experience – fourteen years teaching Hebrew prior to joining Emory's faculty in 2014 – and ongoing learning, which enables her to maintain a student perspective when it comes to deciding which teaching methods are most engaging.  To that end, she received her B.Ed. (2000) from Seminar Hakibutzim Educational College in Tel-Aviv, and her M.A. (2008) in Education and Judaic Studies from Siegel College, Cleveland, OH.  Currently, she is pursuing her doctoral degree in the School of Hebrew at Middlebury College in Vermont.  In addition to its research components, the Middlebury program meets the special needs of language teachers and administrators for competence in the areas of second language acquisition, literature, and linguistic and cultural studies.
Inside the classroom, Kahlon-Shelnutt strives to create a lively, accepting community of students who enjoy learning together in a safe, open environment.  She does this through an array of activities using authentic materials and real-life situations.  Among these approaches are: simulating ordering from an Israeli café, browsing Hebrew websites, utilizing cinema to explore Israeli culture, and in-class debates on various topics (entirely in Hebrew, of course!).  All this is pursued in order to develop the four main functions of language—oral expression, reading, writing and listening—in ways that make learning relevant to students' everyday contexts.  "When you create this kind of community," she reflects, "you can honestly talk, experience, and argue in a safe environment with peers who turn into friends."
These types of learning approaches have earned Kahlon-Shelnutt a strong reputation among faculty peers as well.  MESAS Department Chair, Prof. Devin Stewart, describes her as "one of our most energetic and outgoing lecturers." According to Stewart, Kahlon-Shelnutt "is focused on incorporating new technologies into language teaching and on finding new ways to engage students and improve their skills in Hebrew."
Her efforts to engage students also extend outside the classroom. In addition to having a WhatsApp chat group for each of her respective class sections, Kahlon-Shelnutt has worked with students to organize cultural experiences in a program known as "Hebrew Table."  Several Hebrew Table events take place each semester, with the focus ranging from formal guest speakers to Hebrew game nights, music nights, and culinary exploration.
The impact Kahlon-Shelnutt has on her students also inspires them to explore aspects of Hebrew and Israeli culture on their own, and she's always excited to be present and support them however she can. Eli Mars really drives this home, emphasizing, "Pazit WANTS to know her students. My class decided to have a Shabbat dinner and immediately thought of inviting Pazit. When we nervously asked her if she wanted to attend, with a huge smile, she said–in Hebrew, of course–that she absolutely would come. Later that Friday, she arrived with a huge plate of food and even brought her daughter along."
In spring 2022, you'll find Kahlon-Shelnutt teaching Elementary Modern Hebrew II (HEBR 102) and Advanced Modern Hebrew II (HEBR 302W) with a large contingent of her fall semester students choosing to continue in their study of language and culture, excited for more.