Main content
Dr. Craig Perry: A Student's Perspective
---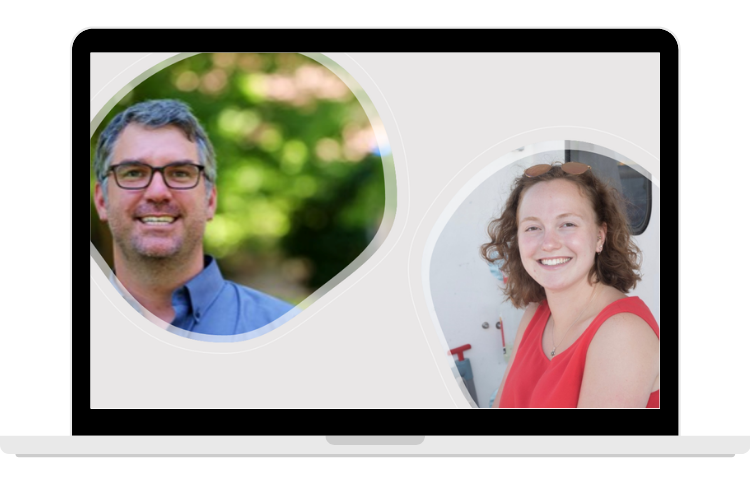 This piece is written by Sasha Rivers, an Emory junior majoring in Arabic and Jewish Studies, who is enrolled in Prof. Craig Perry's Spring 2022 course, "Medieval Egypt: A History of Everyday Life."
It is clear if one has spent a single moment in Dr. Craig Perry's classroom that he cares about what he teaches. I am one of those lucky people to have spent plenty of moments with Dr. Perry, both having taken his "Survey of Jewish History" course in Fall 2021 and being enrolled in his current Jewish history course, "Medieval Egypt: A History of Everyday Life."
Before Dr. Perry got his PhD and subsequently began teaching at Emory, he was a high school teacher, first in the DC metro area, then in Morocco at an English-speaking International Baccalaureate school, then at a Jewish day school in Los Angeles. Teaching high school had been part of his plan since he was in high school himself. His own social and personal growth in high school helped him realize that he could make a difference in that pivotal point in life for other students. He had had teachers who respected him as a person and learner, which in turn helped him learn from his high school students, people he knew to be capable of ingenuity and intellectual inquiry. His time as a high school teacher helped him shift from teaching content to teaching people; he was animated by learning from how his students learned, instead of merely dispensing knowledge to them.
Dr. Perry moved to Atlanta with his wife for her work. He began auditing some classes at Emory, including the very same "Survey of Jewish History" course I took with him, and a couple of semesters of introductory Hebrew. Ultimately, he was accepted in the Department of History's doctoral program as a full-time student. He told me that almost every step toward his PhD involved some serendipity: moving to Atlanta led to him studying at Emory and falling in love with Hebrew and Arabic, finding supportive professors whose courses and mentoring led him to the focus of his doctoral research. The bulk of his research was—and still is—on the Cairo Geniza, a collection of over 300,000 well-preserved Jewish documents dating mostly from the 10th to 13th centuries. From these documents he began writing a history of slavery in the medieval world, with special attention to the Jewish-Muslim context.
A few years after finishing his PhD in 2014, Dr. Perry took a position in medieval Jewish history at the University of Cincinnati. In 2019, when a position at Emory opened in Dr. Perry's niche—Jews of the Islamic World—he knew he had to take the opportunity. He appreciated the strong intellectual life at Emory among those working in both Middle Eastern and Jewish Studies, as well as the Tam Institute's expansive view of what Jewish Studies can be. Dr. Perry brings this enthusiasm of being at Emory to his classroom. Although he is currently one of the experts in his area of scholarly research, having co-edited and contributed chapters to the medieval volume of The Cambridge World History of Slavery, he sees his role as an educator as fundamental. He explained to me how his favorite aspect of working in academia is bringing his research interests into his classroom. He finds inventing courses the most gratifying because he is able to use the topics he loves to center student growth.
I have experienced Dr. Perry's enthusiasm firsthand. I am a junior at Emory, majoring in Arabic and Jewish Studies. Before I declared an Arabic major at the end of my sophomore year at Oxford College, I reviewed the degree requirements, where I saw an elective listed: "Judeo-Arabic," a course on the dialect of Arabic written in the Hebrew alphabet, primarily spoken and written by Middle Eastern Jews under the Islamic Empire. It was in this language that many of the historic documents contained in the Cairo Geniza were written. Last semester in "Survey of Jewish History," I noticed the way Dr. Perry discussed Judeo-Arabic during his lectures, and I asked him after class if he was the Judeo-Arabic professor. He told me that the course had not been offered at Emory since at least the year he began teaching, if not long before that. Although disappointed, I was not disheartened. After some badgering, and a few subsequent meetings, I managed to strong-arm Dr. Perry into agreeing to put together some plans to offer the course (although when I used the word "strong-arm" during our meeting, he laughed and said he felt more enticed than anything).
The interview for this profile, conducted on Zoom, was almost twice as long as I anticipated, because I spent a lot of time probing Dr. Perry about his research out of purely personal interest, and both of us spent a lot of time talking about our excitement about the Judeo-Arabic course.  Before we signed off, I had one last question for Dr. Perry: if he could teach any class with free rein, what would he teach? His answer? The very class he is teaching this semester: "Medieval Egypt: A History of Everyday Life." This was not surprising. After over an hour of listening to Dr. Perry fervently describe his research and how much he enjoys being able to share it with students, it is obvious that any course Dr. Perry gets to teach is among his ideal ones. He puts his soul into his courses, and it is professors like him who make students like me lucky to study at Emory.