Main content
Emory Faculty Fill Important Roles in 2022 Atlanta Jewish Film Festival
---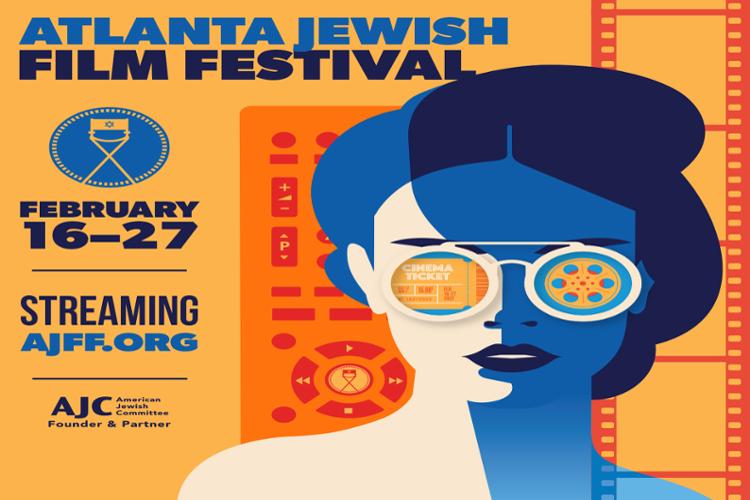 Attracting nearly 40,000 filmgoers, the annual Atlanta Jewish Film Festival (AJFF) is the largest film festival in Atlanta and one of the largest Jewish film festivals in the world.  With a mission to bridge diverse communities through the power of film and storytelling, the AJFF seeks out films that are relatable to those from all walks of life, regardless of faith or affiliations, and complements them with a robust set of programs that allow attendees to discuss the films with filmmakers, scholars, and each other. This year's festival will be presented in a virtual format, allowing viewers access to over fifty films from eighteen different countries. Ticketholders can use the Festival's "View When You Want" feature and also take advantage of a number of curated online introductions and chats with filmmakers and actors.
Planning the annual festival is a year-round endeavor that is carried out by the AJFF's talented professional staff, headed by Executive Director Kenny Blank. The Festival, however, also relies on a dedicated corps of volunteers, including many Emory faculty and students, who have played important roles in its success over the years.  
Most notable among these is Matthew Bernstein, Goodrich C. White Professor of Film and Media Studies and former chair of Emory's Department of Film and Media, who is also an affiliated faculty member in TIJS. Bernstein first got involved in the festival while on a research leave in 2005-2006.  So enamored with the excitement of putting on a festival, the films, and people he got to work with through the AJFF, he continued volunteering in the years that followed.  Over time, he rose through the ranks, eventually co-chairing the festival for two years before ultimately becoming a member of the AJFF board.
Another Emory professor who has played a leadership role with the AJFF is Hazel Gold, a core faculty member and former interim director of TIJS, who is also a member of Emory's Department of Spanish and Portuguese. Several years ago, at the suggestion of Bernstein, Gold joined the AJFF's Guest Programming Committee, which recruits individuals from many spheres – academia as well as cultural and community organizations – to introduce films at festival screenings and to moderate Q&A sessions following some of the more challenging or controversial films. She later served on the Film Evaluation Committee, which screens and evaluates online the hundreds of films that are submitted each year by U.S. and international directors and are considered for inclusion in the festival.
Gold and Bernstein have often brought other Emory colleagues into their festival work. For over a decade, they have brought together TIJS faculty members with AJFF leaders during a Fall faculty meeting to brainstorm and recommend moderators and commentators for the festival, and many also volunteer for these roles. As a result, the festival typically features a number of moderators and commentators from Emory who work in areas related to Jewish Studies. During this year's festival, these include:
Matthew Bernstein, introducing Israel's official Oscar submission, Let It Be Morning, which follows a Palestinian's return to his village where he is physically and emotionally trapped by a military blockade; and serving as the Virtual Lobby Moderator for another Israeli film, Ahed's Knee, in which a filmmaker confronts inner demons and censorship during an arid desert outing;
Jason Francisco, introducing Three Minutes: A Lengthening, in which a snippet of amateur film footage from 1938 Poland yields a haunting testament to people and places lost in the Holocaust;
Hazel Gold, both introducing and serving as the Virtual Lobby Moderator for 1618/Xueta Island, a period drama in which the Inquisition comes to a coastal Portuguese city, uniting the community in the face of paranoia and persecution;
Eric Goldstein, moderating the Q & A for The Levys of Monticello, which explores the little know Jewish family who owned and restored Thomas Jefferson's home, Monticello;
Emeritus Prof. Kenneth Stein, serving as a Virtual Lobby Guest for Blue Box, in which director Michal Weits untangles the complex and controversial legacy of her great-grandfather, who acquired land in Palestine for the Jewish National Fund;
Edward Queen of the Emory Center for Ethics, serving as a Virtual Lobby guest for Plan A, in which Holocaust survivors plot a monstrous act of retaliation to avenge the loss of their loved ones, in this high-voltage thriller and astonishing true story. 
In addition to these faculty participants, Emory students who are volunteering for the AJFF in roles such as interns and film jurors include Rebecca Brazaitis, Evelyn Landy, Liam Sherman, and Nsai Temko.
To learn more about the AJFF and to purchase tickets to the 2022 virtual festival, visit: https://ajff.org/.