Main content
Grant recipient publishes article on forgotten female figurines
---
An alumnus of Emory's Graduate Division of Religion and current Visiting Assistant Professor at Sewanee: The University of the South, Collin Cornell was awarded a Schatten Student Grant by the Tam Institute for Jewish Studies to support his research on "the forgotten female figurines of Elephantine."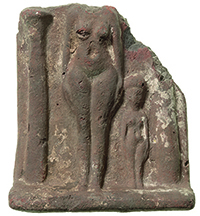 These fired-clay figurines were discovered on the island of Elephantine, located in Egypt, which was also home to an ancient community of Judeans. With his article, Cornell aims to first reignite interest in the religious significance of the female figures, and then to evaluate existing scholarship and to offer his own conclusions.

While textual evidence from the period already raises the possibility that the community worshiped one or more goddesses, Cornell argues for the use of material evidence to further decode the religious practices of the Elephantine Judeans.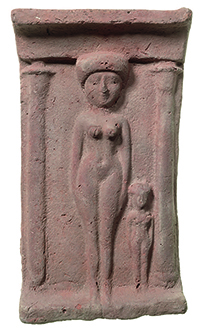 In particular, Cornell used the grant to study the Elephantine shrine plaque at the Egyptian Museum of Berlin. This object depicts two nude figures—a woman between two pillars, with her headdress-wearing child on her left side. Cornell theorizes that even if this plaque and other female figurines were not created by the Judeans themselves, it is possible that they were known to them and recognized as representing a female deity with the power to affect their lives. 
The article, entitled "The Forgotten Female Figurines of Elephantine," was published in the Journal of Ancient Near Eastern Religions, a peer-reviewed journal focusing on the religions of ancient Egypt, Mesopotamia, Syria-Palestine, Anatolia, and other related regions.