Main content
New Course Examines Harvey Milk's Jewish Identity, Intersectionality, and Secular Saints
---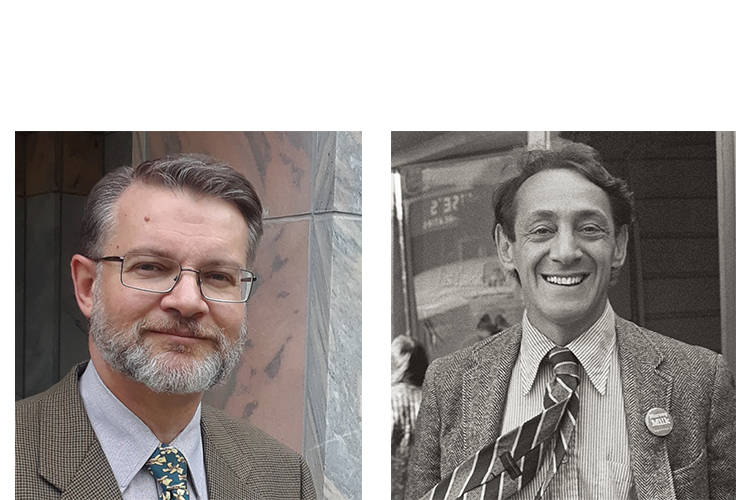 How are cultural and political icons remembered? Can secular figures be described as martyrs or even "secular saints"? These are some of the questions Professor William K. Gilders, associate professor in the Department of Religion, raises in his unique course "Harvey Milk's Life & Afterlives." The spring 2021 semester will mark the second iteration of the class, which is cross-listed between the Department of Religion and the Tam Institute for Jewish Studies (TIJS). It explores the idea that Harvey Milk's Jewishness was integral to his identity. "We really need to refer to Milk, as I do in the course description, as a 'Jewish gay community activist and politician,' putting 'Jewish' first," Gilders says. Furthermore, he hopes to broaden students' understanding of intersectional identities and the use of religious language to describe cultural icons.
Gilders based the course on his research for his work in progress "Harvey Milk Lives!" The Afterlives of a Gay Martyr, which will deal with Harvey Milk's legacy as an iconic figure, including various disputes and conflicts about how he should be remembered and honored. For the course itself, Gilders focuses on placing Harvey Milk as a heroic martyr figure into the larger context of how other such individuals are honored and memorialized, such as Yitzhak Rabin.
Students said the focus on Milk made the class stand out among other course offerings. But, despite its very distinct topic, it also drew students from a diverse range of backgrounds and academic pathways. For senior Matt Pugsley, the class was an opportunity to explore LGBTQ+ history and Jewish figures that weren't featured in his high school curriculum. This was his second course with Prof. Gilders, who Pugsley says is passionate about both instruction and research. Future Goizueta Business School student Tanvi Rudraraju had similar motivations for enrolling. "Being an international student from India, though I did learn about antisemitism, I never had the opportunity to learn about and discuss LGBTQ issues in a school setting," she said.
The opportunity to view Harvey Milk's life and legacy through a Jewish lens appealed to Nicolette Cure, a double major in linguistics and environmental science. "I really appreciated taking this class as a Jewish student because it was the first course I have ever taken that focused on the life of a Jewish historical figure, and how their Jewish identity helped shape them. Milk's religion was not just a side note in this class, and Professor Gilders (and the books he chose for us to read) made Milk's religion clear," she explained.
On the other hand, while biology major Alice Acosta did not have prior knowledge of Jewish Studies before taking the course, she says the class helped her see how ethnic and cultural identity impact the values and decisions of an individual. As a result, she is now also interested in furthering her knowledge of Jewish Studies and hearing from more Jewish voices.
While Gilder's class took the distinctive approach of viewing Harvey Milk through a Jewish lens, both Pugsley and Acosta noted that the course ultimately taught them how to understand the multiple identities that informed Milk's life and legacy. Pugsley said, "Examining the intersectionality of Milk's politics, sexuality, and religious identities provided a more nuanced view of him." Added Acosta, "We are all such unique individuals, and these experiences and identities give us unique perspectives that enable us to navigate society in different ways."
For this second iteration of the course, in addition to assigning a biography by renowned LGBTQ+ scholar Lillian Faderman, who Gilders brought to campus to deliver TIJS' Annual Rothschild Lecture in 2019, he plans to bring in works of art that have been created to remember and honor Milk, even including the text of an opera based on his life.
Gilders hopes his spring 2021 students come away with the same message he imparted to his 2020 students: that Milk's sense of being Jewish, and working to make a better world, came even before he developed his identity as a proud gay man, and that the former strongly informed and shaped the latter. "Many of the students were genuinely surprised to learn how important Harvey Milk's Jewish identity was, both to Harvey Milk himself and for understanding what motivated his activism," Gilders said.  
Additionally, prior to the course, many students thought of "martyrs" only as explicitly religious figures. However, they learned that the term "martyr" represented a larger and more complex category, which includes secular figures. To their surprise, they also discovered that there is a lot of diversity and conflict around how someone like Harvey Milk is remembered.
Not only did students come away with a deep understanding of a cultural icon, they also gained the tools needed to further their critical thinking skills. Pugsley said his biggest takeaway was, "Don't be afraid to critique or challenge the materials you are reading. Dr. Gilders encouraged us to compare sources, notice gaps, and think critically about why certain facts are present and others absent. I think that is an essential skill that can apply to many classes and beyond the classroom." In the spirit of bringing the classroom into the "real world," Rudraraju says, "My biggest takeaway from Harvey Milk and this class is to always be yourself, unapologetically."
Published 1/27/2021