Main content
Scholarship, Companionship, and Healing
---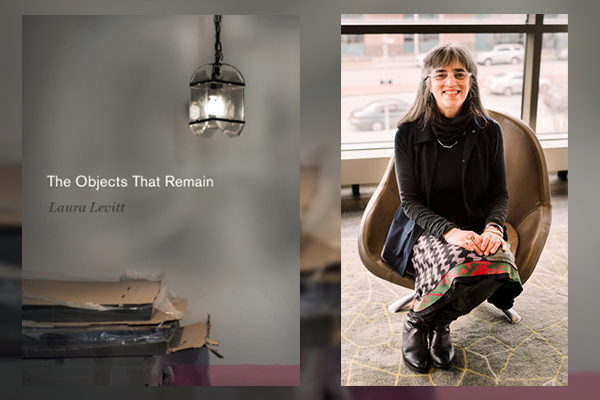 As a scholar of religion, Professor Laura Levitt's professional life has never been hemmed in by the conventional boundaries of field or discipline. Whether as an undergraduate first exploring the academic study of religion, or as a Ph.D. student at Emory during the 1980s and 1990s, or as a leading scholar whose work spans the fields of Religion, Jewish Studies, and Gender Studies, among others, she has always focused on what she calls the "big questions."
There are certain questions, however, for which Levitt says she will never have the answers. "I don't know and I will never know what book I might have written or what kind of work I might have done had this not happened to me, had I not been raped while I was a graduate student. That's what I don't have access to," she says of her latest publication, The Objects that Remain (Penn State University Press, 2020). A work of creative nonfiction, the volume weaves together her own story and her scholarship to examine not only the idea of trauma but also "how material objects embody such suffering." The genre-bending book allows her to process her own suffering and provides tools for those both inside and outside of academia to re-examine trauma.  
A Delaware native, Levitt received her bachelor's degree from Brown University and her master's degree from Hebrew Union College. While earning the latter, she began working at a Jewish community center where she taught groups of all ages. From there, Levitt applied to the Graduate Division of Religion at Emory, arriving in 1987 to begin doctoral work in theology. Although Levitt's degree is in theology, she did a great deal of her course work in Emory's Institute for Liberal Arts and earned a Graduate Certificate in Women's Studies. At Emory, she also had some of her initial experiences as a teacher and mentor to undergraduates, teaching courses on the Holocaust and Introduction to Jewish Studies.
Levitt writes in her introduction to The Objects that Remain, "This book is a meditation on the allure of once ordinary artifacts that were brushed by violence: on where they take us and how they become animate, the rites and rituals around them, and the arts of holding that transform them into sacred objects through our tender care," alerting readers that she will begin by examining objects through the lens of a scholar of religion. She starts this journey by looking at sacred objects in the Judeo-Christian tradition such as garments stained by the blood of Jewish martyrs and relics of medieval saints, and then relates these objects to the idea of divine justice.  As Levitt writes, because she did not receive justice in the legal sense – her case never went to trial and all remaining physical evidence of the crime vanished – she "wanted to legitimate [her] own contemporary longings by placing them in this tradition." But her efforts take a different turn.
Levitt credits her training in Religious Studies as giving her the tools to express the deep significance of material objects, from her own rape kit to Holocaust artifacts like bullet-ridden clothing or tattered shoes. For her and for others tasked with safeguarding or preserving these items, she explains, using terms like relic or talisman can help us realize their importance.  "I think that we do ourselves a disservice by not recognizing how that language speaks to the kind of power of the object that we don't have control over," she concludes, like the thousands of backlogged rape kits across the country and the loss of possessions suffered by victims of the Holocaust.
In The Objects that Remain, she also turns to more modern texts, such as Maggie Nelson's meditations on the objects connected to her aunt's murder, and pottery master Edmund de Waal's family memoir, The Hare with Amber Eyes, which tells the story of how his family lost almost all their personal possessions, such as priceless artwork, to the Nazis. "What I found in engaging with the texts of others was companionship, and so I wanted to model the possibility of that kind of companionship by telling my story in relation to stories of others, because we learn so much with and from each other," Levitt says.
To fully examine the power and trauma physical objects can hold, she uses examples from disciplines as varied as visual arts, photography, literature, linguistics, and philosophy. "I saw these connections and I was trying to figure out how to tell these kinds of stories together, because I thought that they made sense together," she says. "I think associatively, and what I really wanted was to offer readers an entry into my process. I wanted you to come with me, in a way," she adds, as she brings the reader along to take a course on evidence held in police custody and to spend time with a conservator at the United States Holocaust Memorial Museum in Washington, D.C. 
In addition to her own research, Levitt also engages with a wider community of scholars. She was recently part of the panel "Post-Holocaust Feminist Scholarship and Writing: An Intergenerational Cross-Cultural Conversation" with Emory's Prof. of Comparative Literature, Angelika Bammer, at the annual Association for Jewish Studies (AJS) conference. The panel also featured Bammer's mentor, Prof. Evelyn Beck, as well as Levitt's first graduate student, Tania Oldenhage. "Emory plays a crucial role in terms of my pivotal position in the construction of that genealogy," Levitt says, recalling that Bammer was among those who participated in her own graduate training. Additionally, Levitt chairs the Committee on Sexual Misconduct for the AJS and led the task force that created and implemented the Society's sexual misconduct policies and procedures. She is currently curating a collection of essays with the working title I and You: Jewish Feminist Writing.
Prof. Levitt recently delivered the 1939 Society Book Talk in Holocaust Studies for UCLA's Alan D. Leve Center for Jewish Studies, which is available to watch on YouTube.
The Objects that Remain is available for purchase.
Published 4/22/2021