Main content
Rose Library Welcomes Visiting Archivist to Process Southern Jewish Collections at Emory
---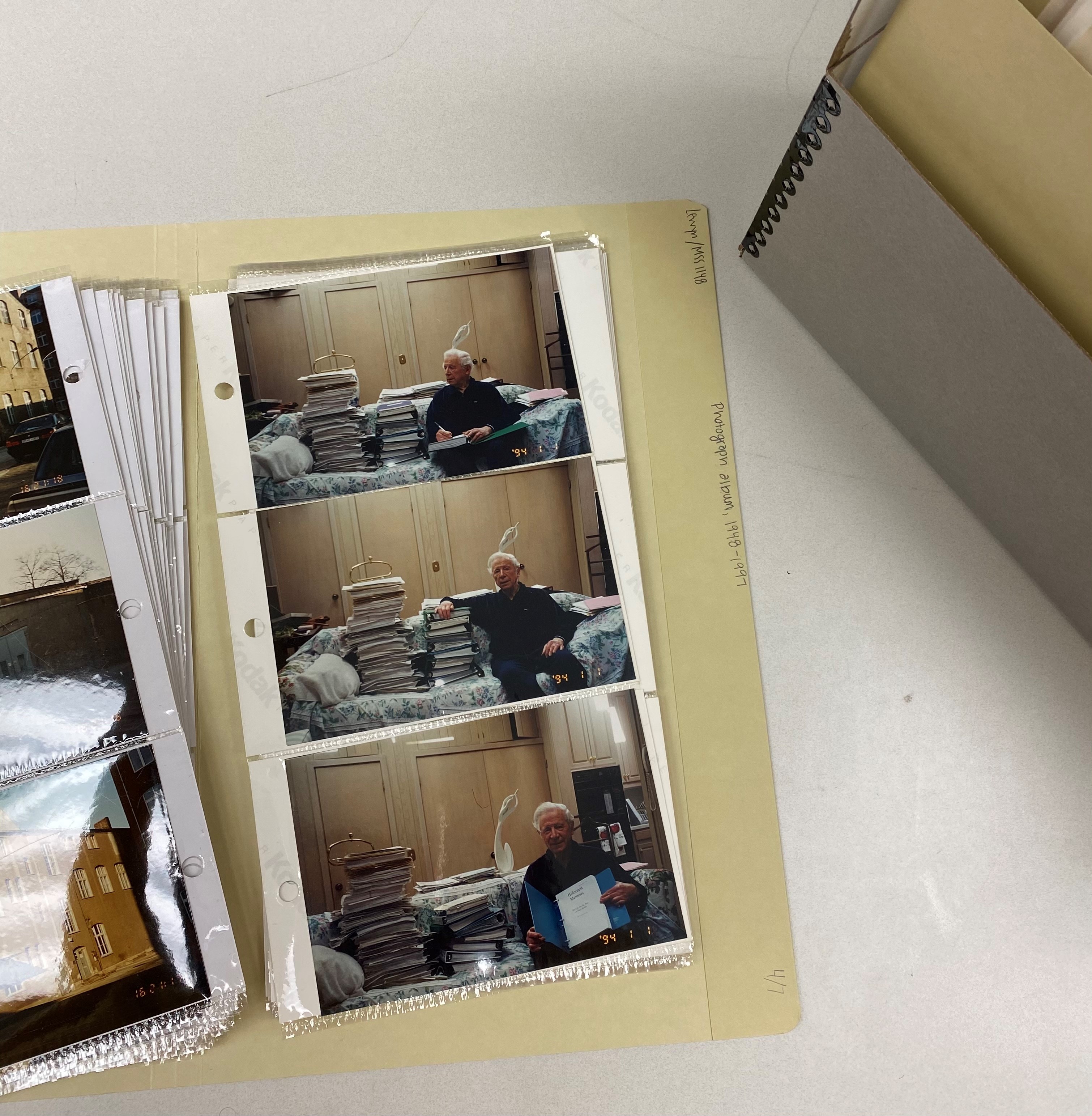 While many on Emory's campus, including students, faculty, and staff, can transition their roles to virtual positions during the COVID-19 pandemic, one job can still only be done in person. Emory's Stuart A. Rose Manuscript, Archive, and Rare Book Library hired a new archivist over the summer to focus on Jewish Studies-related collections.
With support from the Lewyn and Geffen families, Tierra Thomas has been selected to process the following collections over an eighteen-month period.
Bert and Esther Lewyn family Papers - Bert Lewyn was a businessperson, Holocaust survivor, and author. The family papers of Lewyn and his wife, Esther, consist of correspondence, photographs, and materials relating to the writing of his book, On the Run in Nazi Berlin. This was the first collection processed as part of the project and has already been reopened for use.
Morris B. Abram Papers – Abrams was a lawyer, human rights advocate, and diplomat, born in Fitzgerald, Georgia. He is best known for his effort to overturn a Georgia election law that gave disproportionate representation to rural white voters at the expense of urban black voters, work that led to the Supreme Court's 1963 "one voter, one vote" ruling. Abram later served as the US Representative to the UN Commission on Human Rights. The collection consists of personal and professional papers from ca. 1940-2001.
Isaac Don Levine Papers - The collection consists of the papers of Isaac Don Levine, a journalist and author on Russian and Soviet affairs, who worked to expose the brutality of the Stalinist purges of the 1930s. The collections spans from circa 1914-1978.
Jack Stewart Boozer Papers - Boozer was a Christian scholar, author, lecturer, clergyman, activist, and Emory University professor. As chair of the Department of Religion, he was one of the key individuals responsible for the founding of the first Program in Jewish Studies at Emory. The collection consists of notes, research materials, manuscripts, published articles, correspondence, and administrative and printed material reflecting Boozer's research and writing on Paul Tillich, Rudolf Otto, the Holocaust, and ethical issues.
Ms. Thomas's full title is Visiting Archivist for Southern Jewish Collections. She is a graduate of Georgia State University, where she worked as an undergraduate assistant in Special Collections and Archives. Her experience there allowed her to process collections across their holdings, including in the Southern Labor Archives, the music collections, and the women's, gender, and sexuality collections. She just completed her MLIS at UNC, Chapel Hill, where she worked in University Archives processing backlog collections. She was also a graduate student member of Wilson Library's Conscious Editing Steering Committee, a group that worked to redescribe collections so records documenting underrepresented communities are easier to discover.
As the Director of the Rose Library, Jennifer King, explained, last year the library embarked upon a partnership with the Lewyn and Geffen families to increase the visibility and use of the Southern Jewish collections housed here at Emory. In addition to those now being processed, other important collections include the Louis and Anna Geffen Family Papers, the Rabbi Jacob M. Rothschild Papers, the Congressman Elliott Levitas Papers, and the Richard H. Rich Papers. Especially with the increased access to the in-process collections, the Rose Library's holdings will offer to scholars and students' first-hand access to an impressive array of materials documenting the Jewish history of Atlanta and the South over the last two centuries.
So how does processing a collection work? Thomas says, "Typically what we start with is collection analysis, to get an idea of the general themes of the collection. Who is it about? What sort of activities are documented? Why is it important for us to have it? After that I will plan for how long it will take me to process and what schema I want to use for organizing it. I start arranging the materials and writing descriptions so that researchers can find what they're looking for via a finding aid, which is the very last thing created when processing a collection."
The process can even take on a psychological dimension. "I think the most challenging part of any collection is putting yourself in the mindset of the person who created it, and also putting yourself in the mindset of the people who want to use it," explains Thomas. "For example, I'm working on processing the Jack Stewart Boozer papers and sometimes when I'm looking in folders that he put together in his filing cabinet, it can be confusing for me to describe and understand it. Why did he put all these items together? How can I help someone else understand? I try to stay true to how a collection is because we don't want to lose any important context when other people look at it."
Thomas has already finished processing the Bert and Esther Lewyn Family Papers. "That one is so interesting because it really revolves around Bert and his memoir, On the Run in Nazi Berlin. He was a Holocaust survivor and his story is so incredible. In his early drafts, he describes chance moments that helped him survive, which is pretty incredible to read," she says.
In addition to processing the papers, the Geffen and Lewyn families have contributed funds to support scholarship in Southern Jewish history in the form of Rose Library Fellowships. The library anticipates being able to host two to four fellows in Southern Jewish history each year, who will be supported in their travel to Atlanta and their use of these collections, beginning as soon as COVID restrictions on campus visits are lifted.
The Rose Library is excited to increase the visibility of these collections, and to encourage their use, and hopes that doing so will help strengthen its role as a repository that documents the long and vibrant history of Jewish life and influence in Atlanta, the South, and at Emory. In particular, the library is enthusiastic about highlighting the relationship between Jewish life, activism, the Civil Rights Movement, and Human Rights movements that arose in Atlanta in the 20th century. 
Published 11/9/2020.