Main content
2018 Rothschild Lecture explores role of Jews in human rights law
---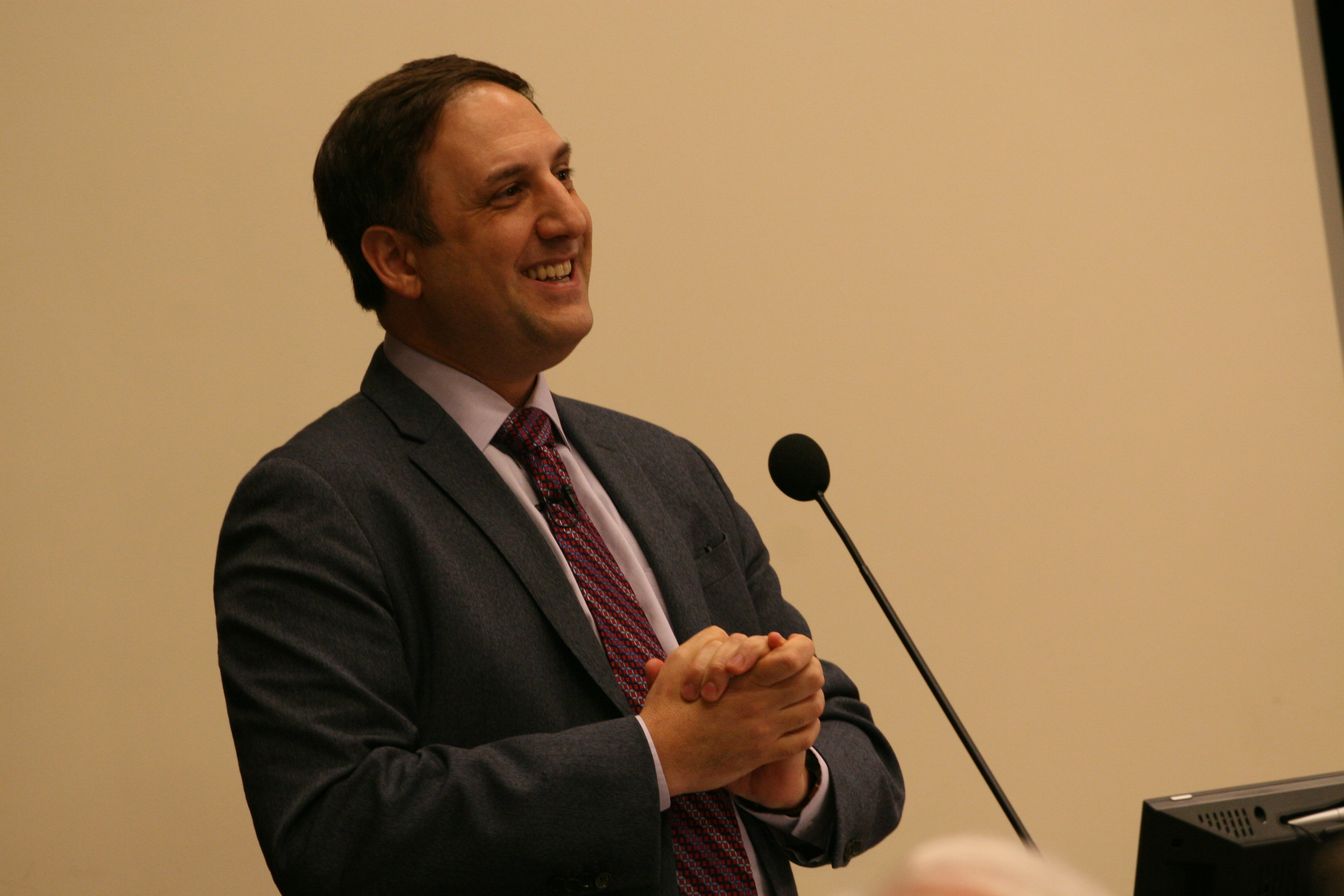 On Thursday, November 15, 2018, Professor James Loeffler of the University of Virginia delivered the 10th Annual Rabbi Jacob M. Rothschild Memorial Lecture, "Rooted Cosmopolitans: Jews and Human Rights in the Twentieth Century," based on his recent book of the same name, in the Oxford Presentation Room of the Oxford Road Building. Emory's Professor Eric Goldstein introduced the speaker and provided background on civil rights activist Morris B. Abram, as the lecture also commemorated what would have been Abram's one hundredth birthday. Dov Wilker, Regional Director of AJC Atlanta, also spoke to the roles of the American Jewish Committee and Rabbi Rothschild in human rights advocacy.
Dr. Loeffler began with a joke: two Jews sat on a park bench. The first said to the second, "Oy!" The second replied, "Oy!" The first, again, "Oy!" The second then exclaims, "I thought we agreed not to talk about Israel!" Loeffler used the joke to segue into the complex history of Jews and human rights in the twentieth century. Using the writings of two distinguished attorneys, Hersch Lauterpacht and native Georgian Morris B. Abram, Loeffler illuminated the role of Jews in the development of human rights on a global stage. Loeffler harkened back to the pre-World War II careers of both men, noting that each developed his own definitions of human rights, both in relation to the Jewish people specifically and to minority groups across the world. 
The lecturer also used these influential figures to explore major debates surrounding the creation of the state of Israel and the Universal Declaration of Human Rights. How, Loeffler asked, can differing organizations simultaneously view Zionism as either antithetical to or synonymous with human rights?
Following the presentation, the audience was given the chance to ask their own questions, which varied from the role of women in the development of international human rights to possible parallels to politics today.
The Rabbi Jacob M. Rothschild Lecture, now in its 10th year, memorializes the late rabbi, civil rights activist, and spiritual leader of The Temple, Atlanta's oldest Jewish congregation. Each year the Rothschild Lecture features a distinguished speaker on a topic related to social justice and Judaism.
The event was co-sponsored by the American Jewish Committee Atlanta.
Photo Credit: Myron McGhee
C-SPAN 3 recorded the lecture as part of their American History TV series.
Jewish history professor James Loeffler talks about his book, [Rooted Cosmopolitans: Jews and Human Rights in the Twentieth Century].