Main content
Udel receives rabbinical ordination
---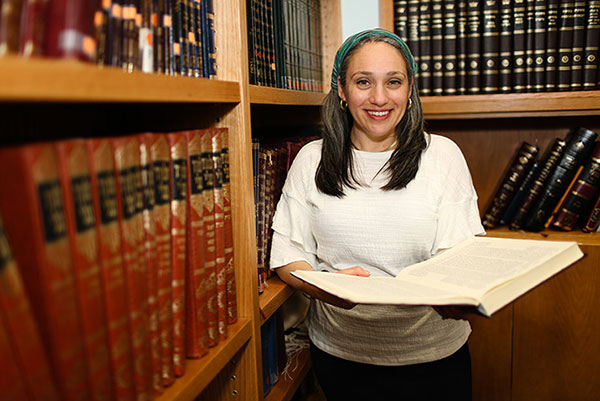 TIJS extends its congratulations to core faculty member Professor Miriam Udel on her upcoming graduation from Yeshivat Maharat! Professor Udel will be one of three women to receive semikha (ordination) through the new Advanced Kollel: Executive Ordination Track. The Kollel is designed for women who "have spent significant time engaged in advanced learning and teaching" and is an intensive, part-time three-year course of learning. Professor Udel describes the Kollel Track as "a challenging program for mid-career women who have the underlying textual skills in place to study for the rabbinate."
The ten-year-old institution was the first yeshiva to ordain women as Orthodox clergy. Traditionally, rabbinical education has only been available to men within the Orthodox community. Maharat graduates can be found serving as clergy in synagogues, schools, universities, and Jewish community centers. These women perform functions characteristic of rabbis, such as delivering sermons, answering questions on Jewish law, providing pastoral counseling, officiating weddings, and more. 
Professor Udel is an associate professor in both German studies and Jewish studies at Emory, specializing in Yiddish language, literature, and culture. Her current research focuses on children's literature written in Yiddish.  Professor Udel explains her interest in expanding her academic expertise: "Although my scholarly work focuses primarily on modern Jewish literature and culture, I have always had a deep investment in rabbinic literature as well. This program offered a formal framework in which to resume a kind of textual study that I have had too few opportunities to pursue during my professional life."
Professor Udel will bring that framework back to her community, writing, "I will continue to do the work on Yiddish and modern Jewish literature that is precious to me and to teach about rabbinic texts in the community broadly. Now I have a credential that attests to a degree of expertise in those more ancient texts." 
The graduation ceremony, which can be livestreamed, will take place on June 17 in New York City. Professor Udel writes, "Graduation is a Moment with a capital 'M.' It's a large, public ceremony at which each graduate speaks briefly. The walls of the room pulsate with the energy of a very supportive crowd." Fittingly for a course designed to allow Orthodox Jewish women to serve and to engage with their communities more fully, Udel found support and encouragement within her all-female cohort.  "The lower-case moments were just as awe inspiring: working week after week, year after year, with my brilliant study partner, Rabbi Dr. Devorah Schoenfeld, who is also an academic, to wrangle our way through difficult, rewarding texts," she added.
Congratulations again to Professor Udel for earning this landmark credential!
Learn more about Yeshivat Maharat on their website.
Hear from the graduates of the Kollel, including Professor Udel.