Main content
2020 Rothschild Lecture Speaker Tackles American Jews, Whiteness, and Racial Justice
---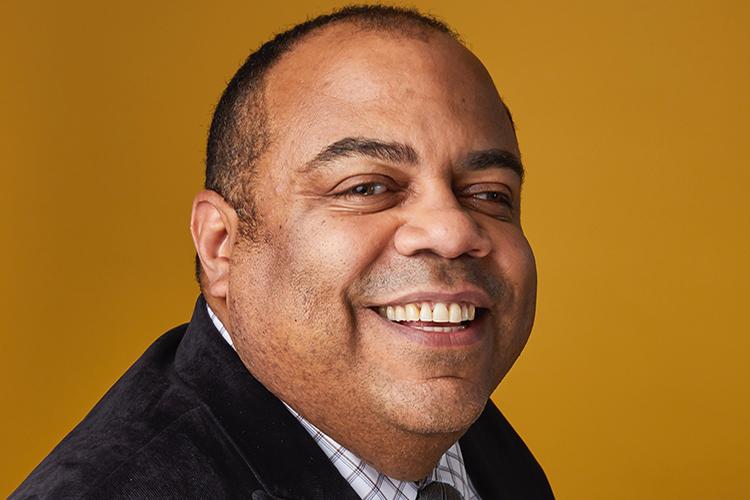 Rothschild Lecture Speaker Tackles American Jews, Whiteness, and Racial Justice
Thursday, October 29, 2020 marked the 12th Annual Rabbi Jacob M. Rothschild Lecture, hosted by the Tam Institute for Jewish Studies at Emory. Due to the COVID-19 pandemic, for the first time the lecture was held virtually via Zoom, allowing speakers to converse from their respective home bases of Atlanta and Portland, Oregon. Eric K. Ward, Executive Director of the Western States Center, is a nationally-recognized expert on the relationship between authoritarian movements, hate violence, and preserving inclusive democracy, with over 30 years of leadership in community organizing and philanthropy. Ward was interviewed by the Judith London Evans Director of TIJS, Prof. Eric L. Goldstein, author of The Price of Whiteness: Jews, Race, and American Identity.
"We had a different plan for the Rothschild Lecture earlier in the year," explained Goldstein. "But with the events of this year, with the outbreaks of racist violence that we've seen in many of our cities over the last many months, I felt that we really needed to change course and to examine some of these issues through the vehicle of the Rothschild Lecture, as Rabbi Rothschild was a proponent of civil rights in Atlanta."
Rather than a traditional lecture, the event was framed as a conversation between the speakers.  Among the topics of discussion was Ward's journey toward understanding the intersection of antisemitism and white nationalism, which is the subject of some of his writing. Ward drew on his own experiences of racism as an African American growing up in the mid-1970s in Long Beach, California, and described his early work as an anti-racism activist in the 1980s in Eugene, Oregon, which at that time was home to a budding white nationalist movement.  In researching the propaganda efforts of hate groups such as Aryan Nations, a pattern emerged for Ward: "I began to notice something…all the flyers, no matter how racist or Islamophobic or homophobic or anti-Latino, they always had some reference to the Jewish community. It was on nearly every flyer we collected. I thought, as an organizer, if I wanted to come to terms with this white nationalist movement, I needed to understand what was driving it, and it seemed to be this thing called antisemitism."
In the course of his work on this issues, Ward has concluded that "antisemitism is not at the core of white nationalism, it is the core of white nationalism, and it is so central to the growth of this white nationalist movement that Black people and other marginalized groups will not win our freedom if we are not active in the struggle to uproot this form of antisemitism that is moving across America."
Ward and Goldstein also discussed some of the challenges facing American Jews, who often do not fit neatly into the categories that Americans use to define race and privilege. Although the majority of American Jews are considered white and enjoy the privileges that this status conveys, at the same time they are still vulnerable to antisemitism and often retain a self-image as "outsiders" in American life. As a result, members of the Jewish community do not always agree on where they stand in relation to current discussions about white privilege or what their approach should be to movements for racial justice. Drawing on both his research and his experience as an activist, Ward urged Jews and African Americans to recognize the common interest they have in fighting white nationalism.
The Question and Answer period demonstrated not only the virtual audience members' engagement with the topic on a theoretical level, but also their desire to work through some of the issues discussed on the grassroots level. Ward's advice to these listeners included doing their own research on white nationalist movements, understanding that organizing is hard work, and abandoning "purity politics," which allows disagreements on some issues to override potential collaboration on important areas of agreement. He pointed out that, while he is involved in many organizations, "I do not agree with every policy and every position . . . Whoever I vote for at election time, I guarantee you, I do not agree with one hundred percent of everything they do." In assessing organizations that promote racial justice, but which some Jews also perceive as taking antisemitic stances, Ward encouraged individuals to consider whether the expression of bigotry stems from a few members or if it forms the core of the movement's ideology.
Ward ended with a reflection on the work of Rabbi Jacob M. Rothschild and Janice Rothschild Blumberg, whose work in support of African American civil rights was not always received with open arms during the 1950s and 1960s. "That's just not how change works. You are usually received first with rejection, then you are received with resistance." But he urged those working for racial justice today to exhibit the same kind of patience and fortitude displayed by the Rothschilds. "This is your home; this is your movement," he explained. "This is the 21st century Civil Rights Movement, and you have every right to be in this movement as well."
One hundred and fifty audience members viewed the program from all over the country, as well as from from international locations such as Canada and the Netherlands. Audience feedback was complimentary of the choice of speaker, and many made requests for the recording of the lecture, so they could share the lessons learned with their families, friends, congregations, and communities.
 Published 11/9/2020.