Main content
Booked and Busy: Get to Know Your New Jewish Studies Librarian
---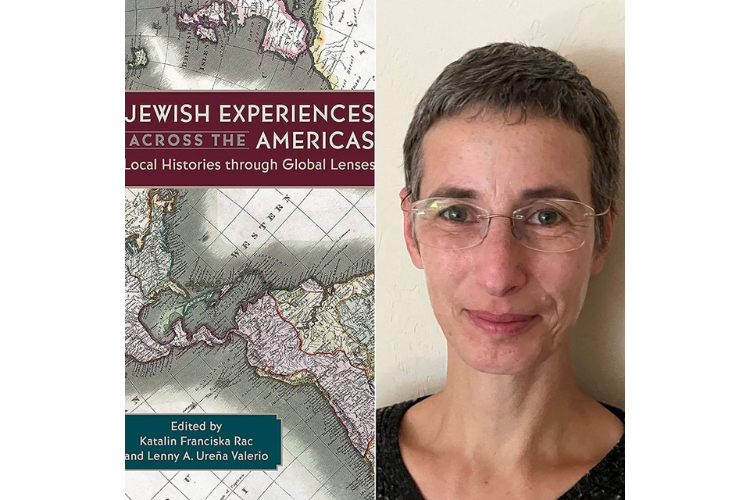 As the summer nears its end, the Emory community excitedly awaits its first academic year with new Jewish Studies area librarian Katalin Rac – a role crucial to the work of the Tam Institute's faculty, graduate students, and undergraduate students.  "Not surprisingly," TIJS core faculty and search committee member Jacob Wright remarks, "we all are very happy to have landed such an outstanding new colleague! Dr. Rac has an extraordinarily distinguished background. Having studied extensively in Europe, Israel, and the US, she has a PhD and an impressive research and publication profile."
Rac holds MAs in Nationalism Studies and International Studies from Hungary's Central European University of Vienna and Corvinus University of Budapest, respectively, as well as a PhD in History from the University of Florida.  Her dissertation, entitled "Orientalism for the Nation: Jews and Oriental Scholarship in Modern Hungary," studied the mutual influence between Orientalism and Jewish integration in nineteenth- and twentieth-century Hungary.
After completing her PhD, Rac pursued a postdoc fellowship at the University of Pennsylvania's Herbert D. Katz Center for Advanced Judaic Studies and an archival fellowship at the Center for Jewish History.  Following these fellowships, she returned to the University of Florida and served in both librarian positions (first as the Library Coordinator for Jewish History then as a Collection Services Assistant) and faculty roles in the respective Centers for Global Islamic Studies, Jewish Studies, and Latin American Studies.  Reflecting on this time, she's particularly proud of how she helped grow the university library's collections.  For example, she assisted with the acquisition of the José Moskovits Antisemitism Collection, 1976-2017 (bulk: 1976-1979).  It consists of the letters, drawings, scholarly articles, newspaper clippings, and official declarations that Moskovits – a Hungarian Jew and Holocaust survivor – received in his survey exploring public opinion on antisemitism. "This is a fascinating snapshot of a global discussion on antisemitism," Rac shares.  "The reason it got me really excited was that in Germany and Hungary around the turn of the 20th century, they were very much used for measuring public opinion on antisemitism, (though) to my knowledge this history wasn't (previously) treated academically."
Rac leveraged her faculty role to help grow the library's resources as well.  For her undergraduate course "Beyond the Memory of the Holocaust," she incorporated students' final projects into the library collection.  "The students' works were shaped by what they learned from the available library resources," Rac reflects, "and at the end of the course, these works became part of the available sources for the next cohort of students and any researcher who visits the library." 
A Vision for the Future
As Rac begins her time at Emory, she joins a Woodruff Library team that recently reworked her role to focus more on Jewish Studies. While Rac's predecessor, Tarina Rosen, covered not only Jewish Studies but also Russian, East European, and Eurasian Studies Program (REES) and linguistics, the position was re-evaluated upon her retirement.  Guo-hua Wang, the Head of Woodruff's International Area Studies team explains, "The conclusion was that the Tam Institute for Jewish Studies at Emory University is one of the largest interdisciplinary Jewish studies programs in the nation.  Based on (this) and the library service data in these areas, we decided to create the Jewish Studies librarian position that just concentrates on supporting the Emory Jewish Studies Program and the community."
At Emory, Rac is eager to be involved in the lives of students and faculty. She wants to provide help for their research on any level.  Rac also looks forward to hosting events, such as movie nights for students involving professors with related areas of expertise. 
While awaiting the return of students for the fall semester, she's hit the ground running on working with faculty. "The members of TIJS are already working with her to design new courses and rework existing ones," Prof. Wright excitedly shares.  "Dr. Rac will also be doing a lot of exciting things for the community (both at Emory and beyond), including exhibits and lectures.  It's a wonderful time to be part of TIJS!"
Published 8/25/23