Main content
Graduate Students Working in Jewish Studies Presented Their Research at the Brickman-Levin Symposium
---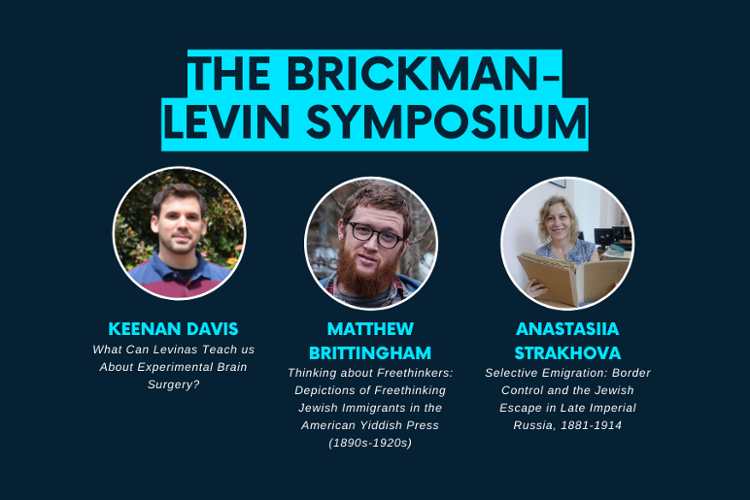 On Wednesday, April 6th at 7:00 pm, the Tam Institute for Jewish Studies and the James T. Laney School of Graduate Studies hosted the Brickman-Levin Symposium, a free online event presented on Zoom, which highlighted the scholarship of Laney Graduate School students who work in the area of Jewish Studies. Both the symposium and the Brickman-Levin Fellowship, which supports graduate work in Jewish Studies at Emory, honor Dr. Perry Brickman and the late Arthur Levin, community leaders who played a crucial role in bringing the history of discrimination at Emory's former Dental School during the mid-twentieth century to light. 
Between 1948 and 1961, 65 percent of Jewish students at Emory University's now-closed dental school were targets of discrimination. Despite sound academic achievements and excellent skills, they were given failing grades, made to repeat a year, or even told to leave the school. A half century later, Dr. Brickman—one of those former dental students—brought this injustice to light by identifying the victims, recording their stories, and presenting his findings to the public. His work formed the basis for a 2012 documentary film, From Silence to Recognition: Confronting Discrimination in Emory's Dental School History, and in 2019 he published a book, Extracted: Unmasking Rampant Antisemitism in America's Higher Education, which places his own experiences within a larger national context.
Brickman's research led to Emory's formal apology for the actions of the former Dental School's dean and faculty. It opened the door to healing for the former students, and it also noted the crucial efforts of Arthur Levin, the Anti-Defamation League southeastern regional director who first documented the pattern of discrimination during the late 1950s and early 1960s and took his findings to Emory President Walter Martin.
The Brickman-Levin Fellowship and the related symposium were established in 2014, not only to honor these two heroic individuals, but also to help make the study of Jewish life and culture a permanent part of Emory's graduate curriculum. By supporting the training of the next generation of Jewish Studies scholars, these initiatives serve as a powerful repudiation of the discrimination that occurred a half-century ago. To learn more about the Brickman-Levin Fund, click HERE.
The 2022 Brickman-Levin Symposium featured three advanced graduate students who will share aspects of their research:
Matthew Brittingham, a Ph.D. candidate in the Graduate Division of Religion, works in the area of American Judaism, with a focus on the intersection between religion and print culture in 19th and 20th century American Jewish history. He also has interests in American religious cultures, religious studies theory, Yiddish language and literature, and Jewish participation in modern sport. His symposium presentation is titled, "Thinking about Freethinkers: Depictions of Freethinking Jewish Immigrants in the American Yiddish Press (1890s-1920s)"                                                                                                                                                                                                                                                                     
Kenan Davis, is both a Ph.D. candidate in the Graduate Division of Religion, where he concentrates on Religious Practices and Practical Theology, and an M.D. candidate in the Emory School of Medicine. His dissertation, "Aspiring to Autonomy," ethnographically investigates the first-person experiences of patients undergoing Deep Brain Stimulation in the treatment of psychiatric conditions, which he brings into conversation with the fields of bioethics, disability studies, anthropology of ethics, and cognitive science. His symposium presentation is titled, "What Can Levinas Teach us About Experimental Brain Surgery?"


Anastasiia Strakhova is a Ph.D. candidate in the Department of History, where she specializes in modern Jewish history, Russian history, and migration. In her dissertation, Anastasiia examines how the racialization of Jews in late imperial Russia functioned through migration policies and everyday border-crossing practices. She also analyzes how thousands of Jews were able to leave the Russian Empire during the late 19th and early twentieth centuries, when imperial legislation forbade emigration, and the roles Jews themselves played in shaping this process. Her symposium presentation is titled, "Selective Emigration: Border Control and the Jewish Escape in Late Imperial Russia, 1881-1914."