Main content
Hebrew Students Experience Local Taste of Israel
---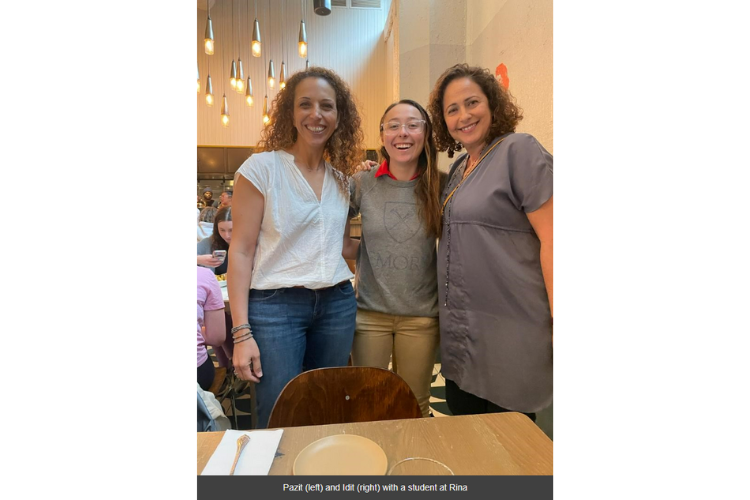 As the Spring 2022 semester drew to a close, Hebrew lecturer Pazit Kahlon-Shelnutt, who also directs Emory's Hebrew Program, and Hebrew instructor Idit Ben-Simon provided their students with a taste of Tel Aviv and an opportunity to improve their Hebrew conversation skills by taking them to a local Israeli restaurant, Rina.
"It was just quintessential Pazit," rising senior Joe Beare 23B remarked in describing how the field trip reflected Kahlon-Shelnutt's approach to teaching.  "She places a huge emphasis on building a tight-knit community in the classroom.  Beare said that the outing "presented a great opportunity to get to know our fellow classmates and a much-needed break from the struggles of finals season."
Beyond enjoying the authentic cuisine, attendees applied their Hebrew skills by conversing in the language about Israeli customs, business practices, and culture.  The restaurant's owner, Tal Baum, also addressed the group in Hebrew, sharing her personal story and describing how it has shaped her work.
Baum explained that Rina – which also means 'happiness' in Hebrew – was named in tribute to her grandmother, and takes inspiration from skewer houses called shipudiya that are found throughout Tel Aviv and other Israeli cities.  In fact, some recipes used in Baum's restaurant have been passed down through her family for generations, having been first tested at grandmother Rina's own falafel stand in Israel in the 1950s.
Some students reported that speaking Hebrew in a non-classroom setting like Rina made the content feel more accessible.  Morgan Ames 24C, a second-Hebrew student, reflected that the trip "let us employ some of the language we have begun to learn. . . Even though starting to learn a language can be difficult, [the] event let all the students feel accomplished in what we have learned so far."
We're excited to see what adventures Profs. Kahlon-Shelnutt and Ben-Simon embark on in their future courses!  In the meantime, if you're interested in visiting Rina yourself, you may find it located on the Beltline at the Ford Factory Lofts, 699 Ponce De Leon Ave., NE, Suite 9, Atlanta, GA 30308.  Sam Essenfield 23C "would definitely go back for the chopped vegetables, hummus, and the chicken over rice!  It was an amazing experience!"
Published 6/8/22