Main content
Recent TIJS Graduate Highlight: Dr. Anastasiia Strakhova
---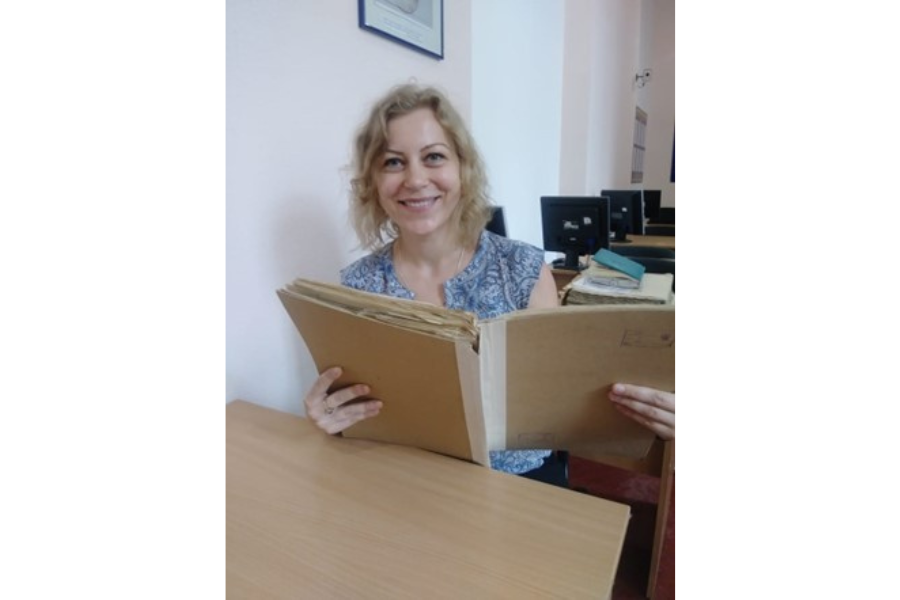 By Blue Harvill
"My research interest evolved gradually," Dr. Anastasiia Strakhova explains when asked about her scholarly development. After getting her BA in her home city of Kharkiv, Ukraine, and then her MA from the Central European University in Budapest, Hungary, Dr. Strakhova traveled to the United States to continue her education. While studying Yiddish in New York, Dr. Strakhova found her curiosity about Jewish migration. "I was so fascinated about the attachment that Jews felt to the United States, and the romanticization of the old country… And then I got very interested in seeing the archives and reading about the way that people were living [at that time in history]." Dr. Strakhova's dissertation addresses late Imperial Russian migration policies through the prism of racialization and criminalization of Jews.
The expanse of Dr. Strakhova's interests meant that she needed an institution with the same breadth of scholarship. "I was specifically searching for institutions that had professors in both Eastern European Jewish history and American Jewish history, and Emory was one of the few such schools," Dr. Strakhova explains. She appreciates the support she received from Emory faculty and recognizes how her co-advisors collaborated to facilitate her scholarly development. "One of my advisors specializes in Jewish history in the Russian Empire, and then the other specializes in transnational history between Eastern Europe and the United States, specifically focusing on American Jewish history. So in this way, their interests complemented each other and led to my project very nicely." 
Dr. Strakhova also acknowledges the valuable feedback she received from members of her dissertation committee outside of Jewish history specifically, noting that they helped her to see the big picture more clearly, and taught her how to express the value of her project to the field of history as a whole. "Anastasiia's research will certainly prove important and have resonance beyond the specific fields of Russian and Jewish History," one of her committee members, Dr. Brian Vick, explains. "Her research opens up new perspectives in [my own field of] German history as well. Above all, though, Anastasiia's work has implications for migration and diaspora studies more generally, at a moment when escalating refugee and migrant crises make these issues all too pressing."
Aside from the support of her committee, Dr. Strakhova recognizes the Tam Institute for Jewish Studies as a significant facilitator of her research and education at Emory. She reminisces about dinners with invited scholars that allowed her to develop informal relationships with influential scholars in Jewish studies. "Several years ago they invited Steven Zipperstein, who wrote extensively about Jews in the Russian Empire. He wrote a book about Jews in Odesa and I was going to do research in Odesa so it was very interesting to talk to him about his experience in the Odesa archive and what was available there." Dr. Strakhova also received grants from the Tam Institute to travel to different archive sites during the summers of her time at Emory, as well as support for her time spent in Tel Aviv learning Yiddish.
The pandemic certainly made its impact on Dr. Strakhova's research and dissertation development, but she takes an optimistic view of the setback, explaining, "The pandemic affected my research significantly, because I couldn't finish my dissertation research in the archives, but I think that might be my second project. My story turned out to be more from the Russian government's side and through the lens of Jewish migration organizations. I could discover very few voices of individual Jews, but I think there is some place in my book where I will be telling the story of individuals not just from the position of their voyages but also how Jews saw themselves in this process."
Dr. Ellie Schainker, a co-advisor for Dr. Strakhova during her dissertation, explains more about how the project evolved over time. "She was initially interested in the Russian-Jewish diaspora and how Jews---emigres and their families and communities---imagined the Russian Jewish community in transnational terms.  Her research, though, pushed her to think more about migration itself in terms of the politics, economics, and mechanics of border crossing.  Over time, she started to ask questions about migration as a Jewish economic niche, the gendered labor of migration agents, and the relationship between the business of migration and antisemitism."
Aligning with Dr. Strakhova's view of her dissertation and future projects as journeys, Dr. Schainker commends her work, saying, "Dr. Strakhova's dissertation reflects her unique mastery of navigating archives across countries and languages, analyzing primary sources in difficult scripts and old orthographies, putting them into historical context and scholarly conversations, and writing a new history of mass Jewish migration that centers the journey more than just the arrival."
Dr. Vick's praise reflects similar themes. "I would say that the increased depth and breadth of Anastasiia's archival research most stands out to me. It was only through careful reading in police and government files in archives in the former Russian Empire, Israel, and New York City that she was able to arrive at such a nuanced analysis of the views and experiences of officials, police, and the emigration agents and emigrants themselves."
Dr. Strakhova is now a Postdoctoral Fellow in the Center for Jewish Studies at Duke University. She will be teaching a course on Ukrainian Jews in the Spring 2023 semester, emphasizing the diversity of Jewish experiences across Eastern Europe. The specific focus of the class is motivated by Dr. Strakhova's desire to expand understanding of the historical Jewish experience. "Many people are descendants of the Jews who immigrated to the United States more than 100 years ago, but since the land they were leaving was all the Russian Empire, people just say that they were coming from Russia," she says. However, many Jewish people lived in towns and cities that now belong to Ukraine, and Dr. Strakhova seeks to emphasize the unique Jewish experience in Ukraine that is different from other lands, including other countries that also once belonged to the Russian Empire. She notes that the course is likely to attract students who are interested in Ukraine for a variety of reasons and hopes that her teaching can engage new interest in Jewish history. 
Published 11/14/22