Main content
Special Event: "The City Without Jews" (1924) Cine-Concert: A Silent Film with Live Music
---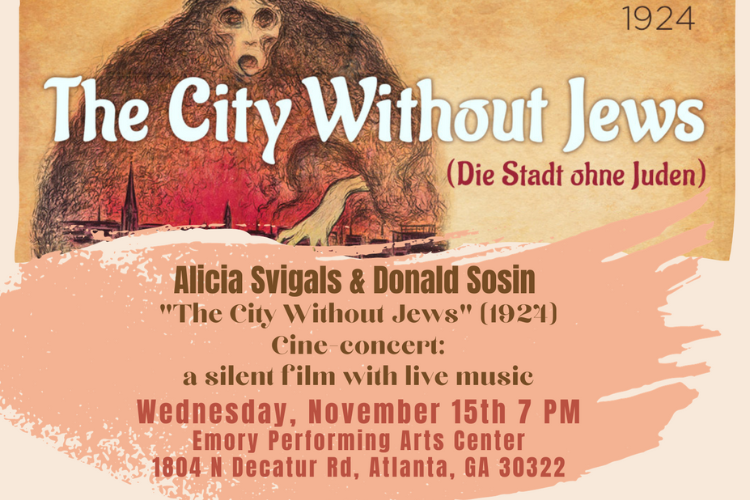 Next year will mark the 100th anniversary of H.K. Breslauer's The City Without Jews (Die Stadt ohne Juden), a film adaptation of the controversial and best-selling novel by Hugo Bettauer.  On November 15th, 2023, Emory's Tam Institute for Jewish Studies and The Department of German Studies are excited to present a screening of this rare, recently rediscovered European film that imagined the impact of antisemitism a decade before its events became all too real.  This special, free public viewing will feature live original music composed and performed by world-renowned klezmer violinist Alicia Svigals and celebrated silent film pianist Donald Sosin.  Advance registration is requested at: tiny.one/cineconcert.
Thought to be one of many thousands of lost films from the silent era, The City Without Jews' story is singular. Shot in 1924, the film concerns Jews from a fictional Austrian city of Utopia.  When the town's government passes a law excommunicating all Jews, its Jewish residents are flabbergasted, ultimately expelled from their homes, and pushed onto trains for uncertain destinations. Seen in light of the Holocaust, The City Without Jews, although soon forgotten after its release, stands as an eerie prediction of things to come.
"This film adaptation has become a time document," notes Emory Professor of German Studies Peter Höyng, "for a period in which--after the dissolution of the Habsburg Empire— antisemitism was on the rise. Bettauer himself became one of the first victims of it in 1925 when murdered by a member of the young party that would become known as the Nazi Party."
The stinging critique of Nazism in the film is part of the reason it no longer screened in public after 1933 (all complete prints were thought to be destroyed). Now, thanks to the discovery of a nitrate print in a Parisian flea market in 2015, as well as to the brilliant restoration efforts of the Filmarchiv Austria, this previously "lost" film can once again be appreciated in its unfortunately ever-relevant entirety.
The Addition of Original, Live Music
Adding a vibrant dimension to this screening is the accompanying live, original musical performance of Alicia Svigals and Donald Sosin, who have been bringing audiences to their feet throughout the U.S. and Europe with their stirring violin and piano scores for Jewish-themed silent films. Sosin is one of the world's finest silent film musicians; Svigals is the world's leading klezmer violinist and a founder of the Grammy-winning Klezmatics. After meeting at a silent film festival in Italy in 2017, the two recorded their first original score for the 1923 German film The Ancient Law, soon followed by The City Without Jews.
With the 1924 score lost to time, Sosin and Svigals relied on their experience and creative instinct as they collaboratively composed their own during the COVID-19 pandemic.  "We started absolutely from scratch," Sosin explains. "We have no idea what the music was when the film was released, as with so many films from that era."
According to Svigals, the nuanced portrayal of the Jewish community in 1920s Austria inspired her to embrace the cultural sounds of the characters on screen. "This performance, in particular, is really special and unique because very few people in the world are actually steeped in Yiddish musical language — klezmer, Ashkenazi, cantorial sounds — and all of that got folded into this music," Svigals said.
Emory's November 15th screening of The City Without Jews is supported by The Sunrise Foundation and will take place at 7:00pm in the Emory Performing Arts Center, (1804 N Decatur Rd, Atlanta, GA 30322).  Space is limited, so be sure to register at tiny.one/cineconcert before seats fill!
Published 11/6/23