Main content
TIJS Fall 2021 Staff Update
---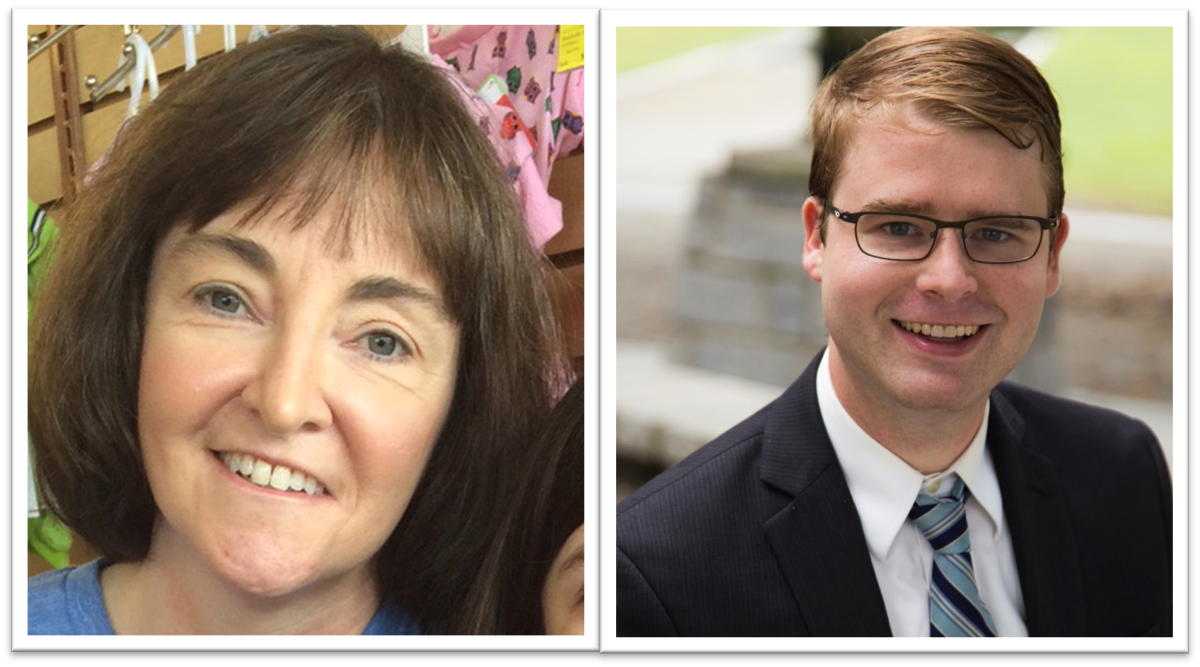 Emory's Tam Institute for Jewish Studies (TIJS) celebrates the 25-year professional anniversary of Senior Program Coordinator, Malory Mibab 90C, and the addition of a new Communications Coordinator, Brent Buckley 14OX 16C.
Malory first arrived on Emory's campus thirty-four years ago when, as a nervous yet excited freshman, she checked in to her—she emphasizes "UN-AIR-CONDITIONED!"—dorm room in Dobbs Hall. She graduated from Emory three years later in 1990 with a B.A. in psychology. After a year away, she returned to campus and began working as both an unpaid intern and a temp before ultimately securing a permanent position in 1996 as an assistant in Emory's Undergraduate Admissions Office.
After five years, she moved on to the Graduate Division of Biological and Biomedical Sciences, where she worked as an admissions assistant and course scheduler for four years before shifting to her current position with TIJS, where she has served as an academic program coordinator for the past sixteen years (last year she was promoted to Senior Academic Program Coordinator). In this capacity, Malory oversees all things academic—both undergraduate and graduate—including monitoring students' progress toward meeting degree requirements and overseeing the application process for grants, awards, and fellowships.  Having been a student here herself, Malory loves conversing with students outside the classroom, and has a deep empathy for their stress levels.
She has witnessed first-hand the many positive changes that the Tam Institute has undergone over the years, watching it blossom and transform into a program that now offers a vast array of academic opportunities. She notes in particular the increased diversity of the Institute's curriculum and faculty since her arrival, as well as the expanded support TIJS offers to students for a variety of educational experiences beyond the classroom.
Malory also boasts strong relationships with TIJS faculty, whom she often assists in curriculum planning, scheduling courses, and advising students. Her ties have been especially close with former Director of Undergraduate Studies, Catherine Dana, with whom she has worked hand-in-glove over the past decade on everything from annual undergraduate assessments to fielding student inquiries to revising the TIJS language requirements. Reflecting on their many years of collaboration, Dana gives special thanks to Malory as "someone who always had my back, could anticipate any question, and frequently advocated for our majors and minors."

Marking her 25th year at Emory, Malory was honored along with other College staff celebrating service anniversaries at a special ceremony, held on the quadrangle on August 18 and presided over by Dean Michael Elliott. We offer our hearty congratulations to Malory on reaching this milestone and we look forward to having her as part of the TIJS team for many years to come!
In other staff news, TIJS has recently welcomed a new Communications Coordinator, Brent Buckley.  Brent hails from Connecticut and moved to Atlanta in 2012 to attend Emory, where he earned a B.A. in political science with a minor in English. He also holds both a Business Intelligence Certificate and a Lean Six Sigma Green Belt Certification from Emory, credentials that reflect his ability to leverage data and process efficiency to expand the Tam Institute's social media footprint.
Before joining TIJS, Brent worked as a Program Advisor with Emory Continuing Education, where his passion for lifelong learning enabled him to successfully build community, partner with students, and help them attain personal and professional educational goals. He enjoys spending quality time with friends, sampling adventurous cuisines, and competing in team trivia.
So far, Brent has been impressed by the many ways the TIJS engages with the broader community through its newsletter and public events, most notably the Tenenbaum Family Lecture Series in Jewish Studies and the Rabbi Jacob M. Rothschild Memorial Lecture, which bring distinguished visiting scholars to campus.  To that end, he's particularly excited for Dahlia Lithwick's role as the featured speaker for this year's Rothschild Lecture, titled "The Demand for Justice: Ruth Bader Ginsburg and the Jewish Tradition." The program will explore the life and jurisprudence of Justice Ginsburg through a Jewish lens, including how her religious upbringing and immigrant background shaped her constitutional worldview and philosophy of what America could and should be.
Brent has already made a very positive impact on the work of the Institute. "In his short time with us, it's clear that Brent is a talented communicator with a diverse set of creative and analytical skills," notes TIJS Executive Director, Paul Entis. "He's bringing a strategic and thoughtful lens to our activities and I couldn't be more excited to have him as part of the TIJS professional team."