Main content
TIJS Grants in Action: Emory Graduate Student Ariel Liberman Reflects on his Bologna Research Trip
---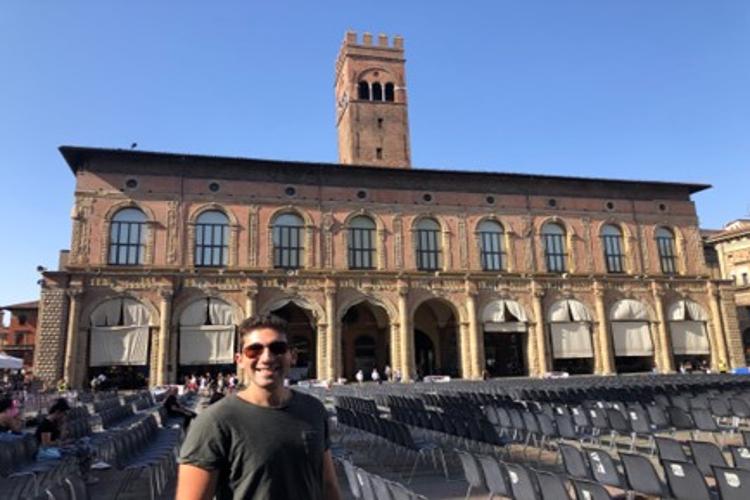 This piece is written by Ariel Liberman, a SJD (PhD in Law) Candidate at Emory University School of Law, and Randolph W. Thrower Scholar in Law and Religion at Emory's Center for the Study of Law and Religion.
As an SJD (PhD in Law) Candidate focused on the areas of law and religion, I often find trouble fitting into an academic home. My research is incredibly interdisciplinary; generally, my work explores the caretaking function of law and legal system, while, more specifically, I look at how to build community-focused education law policy following the example of different legalistic faith traditions. I do law, I do religion, I do history, and I do politics and policy, yet I am not of the Department of Religion or of the School of Law.  Working at intellectual crossroads makes it hard for me to approach others who work within siloed disciplines or even take classes that reflect the nuance of my interests. Nevertheless, I want to carve my own way that does justice to the blurriness of my chosen topic, to really sit in the obscurity of interdisciplinary studies and wear multiple hats at once.  
For this reason, traveling to Bologna this summer, was so important; this is why I am eternally grateful to the Tam Institute for making this trip possible. 
The European Academy of Religion's Conference was built on the notion that different voices from different disciplines, faith traditions, and backgrounds, can come together to explore both traditional and creative, field-specific questions and topics. The gathering was an opportunity for interdisciplinarians, like me, to have a space to come together to learn from others' methodologies, ideas, and to gain insight into how to make their research stronger.  As a young scholar, the opportunity to join in a chorus of thinkers meeting in different sessions, exploring vastly different topics at the cutting edge of religious studies, allowed me to gain a singularly formative outlook on my place in the vast network of fields in which I dabble—all while, of course, enjoying some world class tortellini! 
Some of the most meaningful sessions in the conference had to do with conception of 'minorities' in religion. As a Jewish scholar who borrows intellectually from Judaism in my research, the chance to study 'minority' and 'diaspora' communities in Italy—where Catholicism dominates, and indeed, where so much intellectual energy comes from the Catholic space—was incredibly fascinating.  I took extensive notes on how religion scholars from 'majority' traditions approached minority community empowerment questions methodologically, historically, and philosophically, and how they figured into larger conversations about the relationship between Church, State, and Individual. I gathered up courage to speak out in these sessions, ask questions, and offer perspectives from the Jewish tradition to scholars who were less familiar.
 Where so much of the doctoral study experience is spent feeling like you are passively absorbing information, this conference was something active. I was looked upon as colleague and contributor; in sessions like "Interreligious Perspectives on Conflict in Communities," I felt intellectually challenged, changed, and connected. I learned things I didn't know I needed to know for my own work, compared notes with others on ways to best approach specific topics, and, to be sure, took every advantage to develop good relationships with classmates over many plates of pizza. The conference provided a forum for me to ask questions, and, importantly, to not be afraid of sounding like a novice—but just to lean into the learning!
 Of course, beyond the conference itself, Bologna offered a world of fascinating cultural adventures that helped augment my experience.  I took opportunities to explore my new host city, spending hours touring the beautiful architecture, getting lost in the old Jewish Ghetto of Bologna, availing myself of museums and attractions, and getting to know the city through its history. The place pulled me to write and write and write more about all that I witnessed, learned, and came to understand. 
 I walked in concerned of my interdisciplinary, 'outsider' background, and walked out feeling like a member of a global community trying to reinvigorate the field of religion, understanding its central importance to modernity and all manner of modern questions.  As a young scholar, I could not have asked for a more incredible experience to get me going as a write my dissertation. I only hope that, in the future, I will be able to pay it forward through my writing and teaching.
 Published 9/22/22