Main content
TIJS' Jews of Poland: History and Memory Study Abroad Experience
---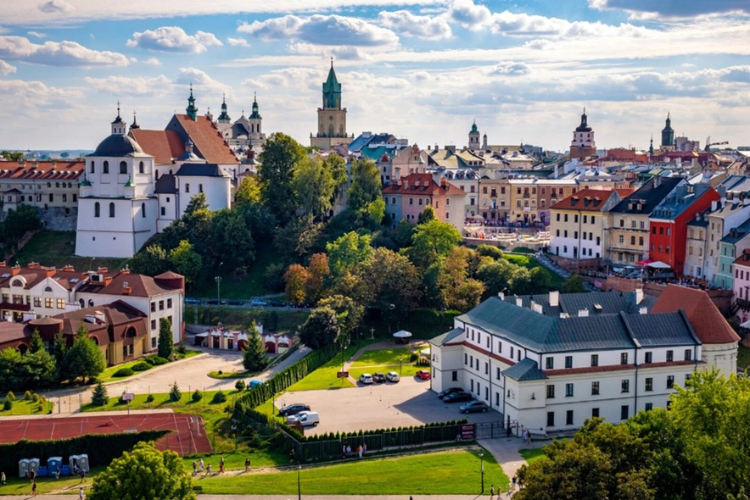 In Summer 2023, TIJS is excited to offer Emory undergraduates the study abroad experience of a lifetime: a ten-day, 1-credit, summer study abroad program in Poland, to take place May 14 - May 23, 2023.  The Berger Family Fund, established by Bruce and Michelle Berger with the purpose of supporting student experiential learning on topics related to antisemitism, Jewish life, and Jewish history, will allow TIJS to heavily subsidize the program for Emory undergraduates. The initiative and its complementary course will be led and taught by TIJS core faculty member Ellie Schainker, the Arthur Blank Family Foundation Associate Professor of Modern European Jewish History. 
Through this opportunity for on-site learning, Schainker aspires to provide students with the opportunity to explore a thousand years of Jewish life in Poland, study the history of Nazi occupation and Soviet domination, and consider the flourishing of Jewish life in Poland today alongside the country's grappling with its history and role in the Holocaust.
Reflecting on her vision for the program, Prof. Schainker noted, "My goal is for them to walk away with a deep appreciation for how Poland - and Eastern Europe more broadly - became such a magnetic home for Ashkenazi Jewish society and culture for really over a thousand years, until the Holocaust.  I want them to appreciate that as a space in which Jewish culture and life flourished while having its major challenges as well."
To accomplish this, TIJS will partner with the Taube Center for Jewish Life & Learning Foundation, an organization founded in 2009, to enrich Jewish life in Poland and connect people from around the globe with Eastern European history and heritage. The center's programs engage visitors in the exploration of a nuanced history, conflicting narratives, the role and place of memory and memorialization, traumas, and legacies. Significant components of the heritage tour education programs include a focus on individual and communal responsibility, the challenge and morality of preservation and restoration, and encounters with contemporary Jewish Poland.
Specifically, the May 2023 program will feature excursions to historically significant Polish sites including excursions to Krakow, Warsaw (including the former Ghetto), Auschwitz-Birkenau, Wieliczka Salt Mines, and more.  There, students will engage with community leaders, Polish activists, and Polish university student peers as they explore the history that led to the post-Soviet Jewish renewal and modern Polish culture.  In doing so, students will experience hands-on service opportunities, including cemetery restoration and current Polish-Jewish work with Ukrainian refugees.
"One of the really exciting aspects of this particular trip," observes Judith London Evans Director of the Tam Institute for Jewish Studies Miriam Udel, "is how organically the site-specific learning is connected to the academic study that will precede it. Professor Schainker is designing the experience to shore up participants' academic knowledge about Eastern Europe in advance so that when they arrive and encounter the sensory inputs of actually being there, their learning can take on new dimensions." To be eligible, students must either complete Prof. Schainker's spring 2023 semester course JS/HIST 338: Jews of Eastern Europe or assigned advance readings, as well as meet the general Emory College Study Abroad eligibility requirements.  You may learn more about these requirements on the official Emory Office of International & Summer Programs (OISP) page for this program.
Published 11/1/22