Main content
Journey to Poland: A Student's Perspective
---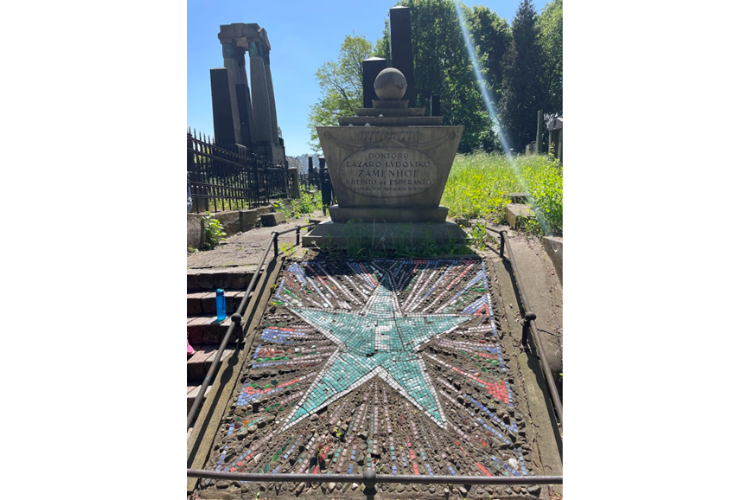 This piece is written by Sasha Rivers, a 2023 Emory graduate who majored in Jewish Studies and minored in Arabic. Following graduation, she has accepted a role with the Peace Corps to volunteer in Lesotho where she will teach elementary school English.
This May, I had the opportunity to take Professor Ellie Schainker's study abroad course, Jews of Poland: History and Memory. There were sixteen Emory students accepted to attend the trip, and it was co-taught by Dr. Schainker's teaching assistant and third-year PhD student, Olivia Cocking.
The course took place over the span of only eight days (plus a travel day on each end), so Dr. Schainker's schedule was packed tight with Polish cultural experiences, museum tours, and visits to various sites of Polish-Jewish heritage. Dr. Schainker and Olivia were not the only leaders of our group; we were also joined by Kaja, our incredibly knowledgeable and personable Polish course leader who fielded every single question any of us could come up with, from "How many Jews used to live in that village we just drove through?" to "What's the best cheap dinner in this neighborhood?"
"Our trip focused on the renewal of Jewish life in Poland today, as well as the memory and memorialization of the Holocaust and Jewish heritage preservation," Dr. Schainker shares.  "We joined a Jewish Studies class at Jagiellonian University, shared a Sabbath dinner with Jewish university students in Warsaw, and talked with cultural activists engaged in the Krakow Jewish cultural festival and synagogue and cemetery restoration projects throughout Poland.  Students grappled with the longevity and dynamism of pre-war Polish Jewish life, its near extinction in the Holocaust and then suppression in the Soviet period, and renewal today alongside the haunting absences of Jewish life and culture outside the big cities.  It was an incredible opportunity to connect our classroom learning to the sites of Jewish history past and present, and to engage in meaningful conversations about genocide, reconciliation, cultural preservation, and the reclamation of Jewish and other minority identities in post-Soviet spaces."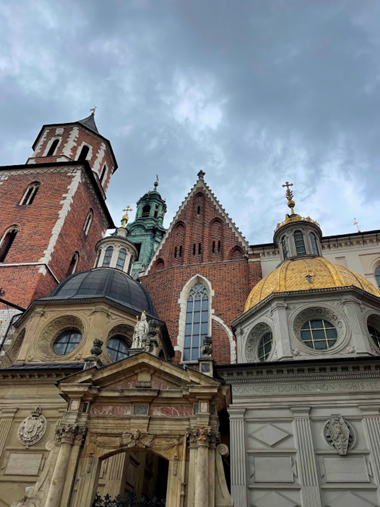 Our first day in Krakow was spent on a walking tour of the city, which took us through Krakow's "Old Town," its historic central district, and Kazimierz, Krakow's center of Jewish life. (Left: a photo of Wawel Castle, Poland's most significant historical site, where Poland's kings lived until the seventeenth century.)
The first dinner we ate as a group was spent at Krakow's Jewish Community Center in Kazimierz. We were joined by a group of JCC members who graciously devoted their meal to telling us about their experiences as young Jews in Poland. Much of the discussion focused on the current war in Ukraine, and how the JCC has been working hard to aid Ukrainian refugees, Jewish and non-Jewish alike.
The next day, we visited the area where the Krakow Ghetto once stood. The old square of the ghetto is still a plaza, upon which stand rows of large, empty chairs that symbolically represent former occupants of the ghetto. After our visit to the former ghetto, Nikolay Smirnov, a student on the trip recounted that "it was strange to see people casually walking through [the square] on their way to wherever they were going. I saw a mother sitting on one of the chairs with a stroller for her child, as well as a grandmother having a conversation on her phone and eating some food. To be frank, I was confused how could this monument of death, exploitation, and destruction be so overlooked in the everyday life of Krakow's citizens."
Although our course was devoted to all of Poland's Jewish history (dating back nearly a thousand years) it is impossible to ignore the fact that 90% of Poland's Jewish population was completely erased during the Holocaust. On the fifth day of our course, we traveled to Auschwitz, visiting two parts of the former death camp: Auschwitz II, or Birkenau, where the barracks and crematoria are located, and Auschwitz I, where the initial camp was and where now stand various exhibits in the buildings of the camp devoted to both the camp's history and wider Holocaust education. Although this visit was incredibly emotionally draining, it bonded our group in a very special way.
After three days in Krakow and one day spent at Auschwitz, we traveled to Warsaw, Poland's capital. After experiencing such immense grief at Auschwitz, we were able to spend Shabbat dinner at Warsaw Hillel with a group of its members. My peer Lex Davis said, "The various blessings, the lighting of candles, the mixture of international tradition and Polish tradition was truly a peaceful, beautiful scene to have been welcomed into," and I could not agree more. It was not only rejuvenating but inspiring to welcome Shabbat with a group of young Polish Jews.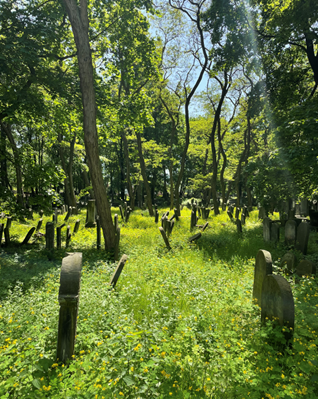 The next day, we visited the Polin Museum, which provides an impressive recounting of the thousand years of Jewish history in Poland, starting in the eleventh century. The museum provided a culmination of not only what we had studied throughout the semester with Dr. Schainker, but everything we had seen so far on our trip. It is a must-see for any visitor to Poland, as it provides an incredibly expansive look at the Jewish history of Poland.
We also toured the Jewish Cemetery of Warsaw, one of the largest Jewish cemeteries in the world (see left). It was amazing to experience a still-functioning Jewish cemetery, especially one that included the burial sites of notables such as I.L. Peretz, a famous Yiddish and Hebrew author, and L.L. Zamenhof, the inventor of Esperanto (an artificial language designed to be easily understood by speakers of many Germanic and Slavic languages).
On the last day of the trip, we took one last walking tour of Warsaw, and learned about the Soviet-era architecture of the city. We then visited the Warsaw Zoo, which is home to the villa of Antonina and Jan Zabinski, two Poles who managed to save the lives of over three hundred Jews by using their villa as a safehouse for those fleeing Nazi persecution and specifically the Warsaw Ghetto. This visit served as the bookend to our trip, and it was an inspiring and powerful note to end on after spending time discussing and witnessing so much of the destruction of the Holocaust.
 It is impossible to capture the sheer amount of valuable learning and incredible experiences we shared during this course. Every moment was filled with something new. I cannot express my gratitude enough to Dr. Schainker, Olivia, and Kaja, for their dedication to our education and all the work they poured into this course, along with all of TIJS and its supporters for this opportunity. As a graduate of Emory's Jewish Studies program, I am incredibly proud to have attended an institution with such wonderful educational offerings as this trip.
Published 7/12/23