Main content
TIJS Undergraduate Grants in Action
---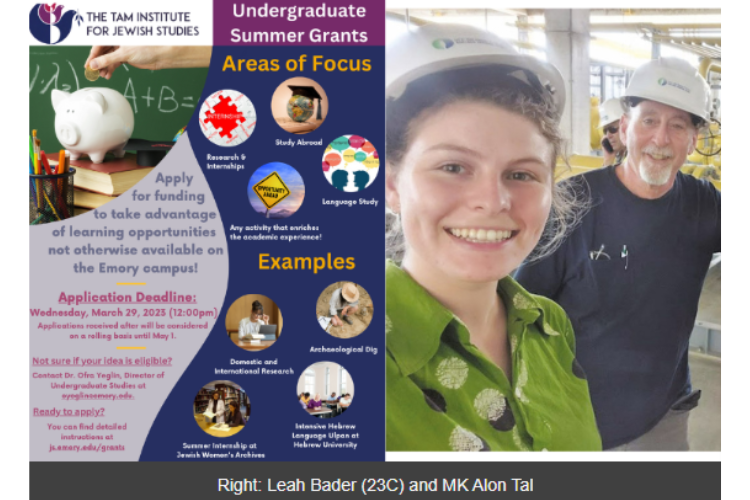 By Blue Harvill
The Tam Institute for Jewish Studies (TIJS) provides awards and grants to undergraduate students to support activities that enrich the academic experience, such as study abroad, intensive language training, and travel for research or participation in conferences and workshops. The Institute supports a wide range of subject matter and experiences, as evidenced by how two recent recipients utilized their respective grant funding: Leah Bader, a political science and Arabic studies double-major who traveled to Israel for research, and Adina Peck, a pre-health track psychology major who landed an Atlanta-based internship exploring mental health.  As the latter notes, "there's a lot of different avenues and interdisciplinary ways that Judaism interacts with the world, so people can explore anything."
Leah Bader describes her interests as "high-stakes sociology", clarifying that "electoral politics are one of the highest value decisions that a person can make…who they want to govern them, what they want their ideal world to look like." Holding a particular interest in the intersection between these decisions and religious mobilization, Leah sought internships in journalism or political writing in order to get more exposure to politics. Her TIJS grant enabled her to travel to Israel and volunteer with a member parliament in the Knesset, the Israeli Parliament. Leah explained, "I never really anticipated going straight into politics, but I had the opportunity, so I thought, why not?" In her role, she organized events to facilitate more accessible and effective communication between representatives and English speakers in Israel while also assisting with meaningful climate change policy research.
Reflecting on her experience, Leah feels that she gained "a long-term perspective for what I might want to work on in the future and the reality on the ground of what it looks like to work in Israeli politics." She also grew more confident in her professional capabilities, discerning the significant impact she made during her time in Israel. "I think I'm more likely to work in sustainability in the future. That's something that I never felt like I had the background for before," Leah observed. Since her experience last summer, Leah is applying for a Fulbright scholarship to return to Israel, seeking to continue her education in Islamic and Middle Eastern Studies at Hebrew University.
While Leah acquired experience abroad in Israel, Adina Peck found an opportunity to combine Jewish Studies with her Psychology major here in Atlanta. When the Blue Dove foundation came to speak at an event on Emory campus, Adina was inspired by their mission of addressing mental health from a Jewish perspective. "I was kind of looking at the intersection between Jewish thought and modern scientific thought on mental health," Adina said. Leveraging support from a TIJS grant, Adina took on a position with the Blue Dove Foundation that enabled her to write new material focusing on mental health, while also considering the Jewish knowledge of the foundation's audience.  These pieces of writing explored the relationship between lessons of Jewish holidays and teachings to understanding emotions and coping skills.
"One thing that was beneficial from the Blue Dove Foundation is it gave me a lens. It definitely opened my eyes to seeing places of interaction where I otherwise wouldn't have seen them, like looking at the holidays as corresponding to mental illness and mental health," Adina acknowledged.  With academic interests in the area of clinical and counseling psychology, Adina reflected on how her internship with the Blue Dove Foundation broadened her future career options. "It's kind of shaped my trajectory in terms of giving me more questions to consider and maybe think about the budding literature on the role of clerical workers in therapeutic spaces. So that's not necessarily what I was thinking before, but there's also research to suggest that their religious based therapy is helpful too."
Throughout the years, TIJS undergraduate grants have offered many students diverse opportunities to enhance their skills and develop a better understanding of Jewish culture and civilization. In addition to the experiences of Leah and Adina, these grants have supported students' archival research for honors theses on topics of Jewish student activism - including the Israeli Andalusian Orchestra of Ashdod and German-Jewish emigration in the 1930's – as well as internships with the Middle East Peace Process Program in DC and a fellowship at the Drisha Institute in New York City.  Several students have spent summers in Israel working at an archaeological dig site for the Lahav Research Project.
Each awardee works with a faculty advisor, who supports them through the application process and advised on how to get the most out of their chosen experience. For example, Dr. Geoffrey Levin, whose expertise includes Middle Eastern Politics and the diplomatic history of Israel, advised Leah Bader "to expect a much more informal work environment in Israel than in the US… (as) the informality can lead to warmer connections. We also talked," he explained, "about Alon Tal, the Knesset member she would be working with, who is unique in his commitment to environmental issues."  This discussion prepared Leah for the political environment in Israel, and gave her a basis for expectations about her internship.
Beyond taking advantage of guidance from advisors, the recent grant recipients have some thoughts for future applicants: "It's much more accessible than I thought it was," Leah acknowledged. "And Jewish Studies is a lot more applicable than people think. It studies the Jewish culture and society wherever it is found." Adina, focused on preparing for the experience, advised applicants to "Definitely try to understand your project as much as possible beforehand, so that you have a clear goal for how you will maximize your experience." The Tam Institute for Jewish Studies accepts applications for its undergraduate grant every spring. You can learn more about requirements and how to apply here: http://js.emory.edu/grants/index.html
Published 3/14/23