Main content
Q & A with Collin Cornell
---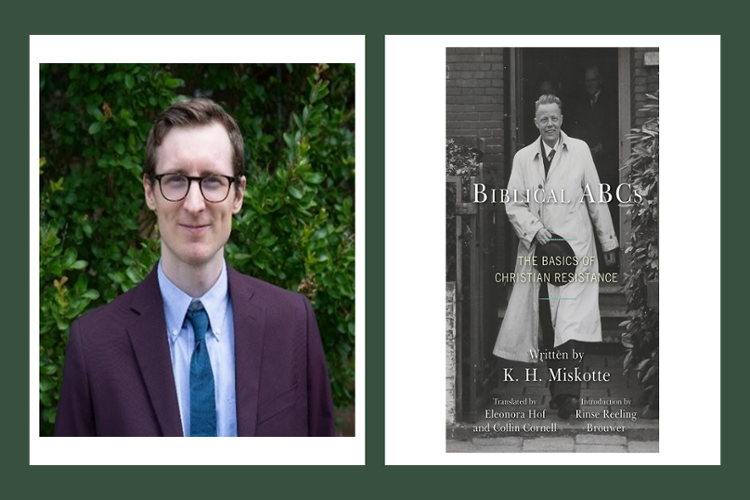 Collin Cornell earned his Ph.D. in Hebrew Bible/Old Testament from Emory University in 2018 and was a Tam Institute Fellow.  In the Q & A below, Dr. Cornell reflects on his experience and his recently published co-translation of the Biblical ABCs: The Basics of Christian Resistance, a theological resistance primer.  Its author, Kornelis Heiko Miskotte, was a Dutch pastor, theologian, and antifascist who lived and worked under the Nazi occupation of his country. Miskotte's family hid Jews inside their home, and Miskotte facilitated underground Christian discussion groups.
This interview has been lightly edited for length and clarity.
Q. Please tell us about your graduate training at Emory and your links to TIJS.
A. I came to Emory in 2013, almost a decade ago. The Hebrew Bible Ph.D. program in the Graduate Division of Religion was my top choice, not only because of its ranking, reputation, and placement rate, but because of its range. I felt that at Emory I didn't need to choose between my historical interests and my theological ambitions. I wanted to study ancient languages intensively and learn the best of critical scholarship; I also wanted to contribute to the continuing use of Hebrew Scripture among Jews and Christians. There were (and are) few graduate programs that face in both directions.
From the beginning of my Ph.D. program until I graduated, the Tam Institute provided me with a top-off fellowship. I also applied for two grants from the Tam Institute. One, a Schatten Student Grant, supported research I did on Persian-period Jews living on a Nile Island in the south of Egypt. I published that as an article. The other, a Judaic Book Fund Grant, enabled me to edit a book called Divine Doppelgängers. The latter testifies to my dual trajectory: I asked Jewish and Christian experts on the Hebrew Bible and its ancient contexts to answer a theological question. I didn't want them simply to observe that there were look-alikes to the biblical God in antiquity—that much is well-known. Instead, I wanted these experts to propose an explanation of the look-alikes that would satisfy current-day believers who might worry about them.
Q. Tell us about the work you have been doing since you received your Ph.D. from Emory. What are your primary areas of research? When and how did you first become interested in these particular areas?
A. On the one hand, I've had a varied career since finishing the Ph.D. On the other, I've had the same employer all the while. In the year that I finished the Ph.D. (2018), I started a visiting professorship in biblical studies for the School of Theology at the University of the South, also known as Sewanee. I came on board as a year-long sabbatical replacement for their professor of Old Testament. But then the following year their professor of New Testament went on sabbatical, so the (now-former) dean asked me to swap testaments, and I taught New Testament and Greek for a year. Then they kept me around for another year teaching languages—Aramaic, too!—and electives like one on theodicy and the Bible (Tam connection: for that class I assigned David Blumenthal's Facing the Abusing God). Lastly, the School of Theology shunted me over to manage their Center for Religion and Environment, which I continue to do.
My primary research area is the Hebrew Bible, and my focal point is its conceptions of God. For example, my dissertation, revised and published with Cambridge University Press, homes in on one facet of the divine persona—aggression—and compares examples of divine aggression in biblical texts and ancient inscriptions. The book silhouettes the distinctive scale of God's aggression in Hebrew Scripture. Patron gods—deities who were thought to protect a particular people or place in the ancient world—don't typically harm their own client king and country, but the biblical God does. Another book for Cambridge University Press (Monotheism and Divine Aggression) explores how building all divine functions into one god, literarily, expands that god's aggressiveness. These works are mainly historical, but they are thematically linked to my constructive writings—meaning, those in which I am constructing a new theological proposal, which argue: whatever else it is, divine aggression is oppositional. It describes God's capacity for coming against human projects, resisting and undoing them.
Q. How did you get involved in translating Biblical ABCs and what drew you to this project?  Why is it important that English readers have access to the work of K. H. Miskotte?
A. First of all, Miskotte is a theological interpreter of God's capacity for opposition in a modern-day context.  Even though my historical research focuses on divine opposition to various forms of human power, in the few past years I have keenly felt the lack of theological resources articulating that opposition for worshipping communities here and now. Charlottesville and the Trump era shocked me awake. I saw that a far more programmatic resistance to fascism, and a far deeper response to antisemitism, are required. Given my expertise, I looked for these in close proximity to Hebrew Scripture; and I looked within my own little corner of Protestantism. I found K. H. Miskotte (1894-1976), a Dutch pastor of the World War II generation. His theology centered in the Hebrew Bible, and he wrote a dissertation on then-contemporary Jewish thinkers; his intellectual hero was Franz Rosenzweig—an exceptional choice for a Christian, both then and now. Before the German Army invaded the Netherlands, Miskotte was a vocal, public critic of National Socialism, even debating a Dutch Nazi pastor. During the occupation, he sheltered Jewish refugees in his parsonage. He wrote one wartime book that the Nazi censors caught and outlawed, and another, called Biblical ABCs, that they overlooked. It was intended for circulation among cell resistance groups, and its theological theme was God asSaboteur—a very striking image of divine opposition!
This is the book—Biblical ABCs—that I co-translated with my Dutch friend and counterpart, Eleonora Hof. I had already been looking into Miskotte, but what brought Eleonora and me together was a paper she presented in 2016 on Miskotte as a theologian of resistance. I read it online and reached out, and soon thereafter, Eleonora proposed that we should translate this short book into English for the first time. It was a long and slow process and ended up taking us four years to complete. We've been really grateful for its reception in the first months since its release. An international conference took place in November 2021 in response to the book's publication, and the conference proceedings are now on their way into print. The panelists and participants were Christian, but Biblical ABCs has also caught the interest of a number of Jewish scholars I've corresponded with, not least because of its indebtedness to Rosenzweig.
Q. Tell us a little more about your professional experiences and future goals, particularly those related to Jewish Studies.
A. I plan to keep writing in a historical vein. I also plan to increase . That means abiding with Miskotte: there's plenty more to say about his legacy, and more yeoman's work to follow through on (a translation seminar is, for example, in formation). But so, too, there is a larger theological lineage to engage. Miskotte absorbed much from Rosenzweig, and he transmitted much from Rosenzweig to his Dutch aftercomers: a privileging of the Four-Lettered Divine Name; insistence on the mutual validity of Judaism and Christianity, each in its specific calling; commitment to adult education, as in the Jewish tradition of the beit midrash (communal study house); emphasis on the formal features of Hebrew Scripture. Miskotte helped to inspire a whole "school" of modern Dutch theology, the so-called Amsterdam School. This tradition remains little-known in English-language scholarship. Elucidating the Amsterdam School—as a distinct chapter in the story of twentieth-century Rosenzweig-interpretation—is a wholly outstanding task.
I believe that recovering that chapter is important for several reasons. It fills out the total picture of Rosenzweig's bequest, which continues to generate lively conversation within Jewish Studies. It presents an interesting and unusual moment of intellectual cross-pollination between Jews and Christians. It stands fit to energize further acts of theological construction on the basis of Hebrew Scripture. And it renders an example of sustained dissidence, theological and practical, to antisemitism. Miskotte drew on Rosenzweig. He also marshalled what he learned from Rosenzweig to directly challenge far-right authors who have resurfaced in recent years (e.g., Julius Evola, cited by Steve Bannon, or Janko Janeff).
Q. How has your Emory degree helped you or influenced you in your career? What advice would you give to students who are considering a similar career path?
A. There's hardly a piece of my Emory degree program that I haven't drawn on. I've had to, just given the breadth of my responsibilities in recent years! Emory prepared me to be a dexterous and interdisciplinary thinker, and a creative pedagogue. It also inculcated a certain responsibility toward the world. I've carried that responsibility to places well beyond my coursework and exams and dissertation. Dutch Protestantism, Rosenzweig, and the environmental justice work I do for my current job were not directly part of my education, but what I learned at Emory laid good groundwork for all of these concerns.
My advice for students would be: follow your interests, stay limber, and take responsibility. We are surrounded on all sides by uncertainty, especially in the study of humanities. In view of the risk and precarity that accompany almost any path, there's little reason not to dig into what really piques you, even if it's off the beaten track. So, too, we face enormous dangers in our society and world, so lean into the injustices that concern you; take responsibility and you will find communities of care.
 Published 4/27/21